DAM:
BONE POINT'S WALLOWA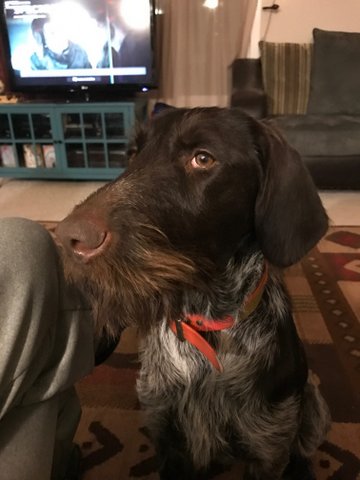 NAVHDA NA: 105/II
HEIGHT: 24"
WEIGHT: 56 lbs
DOB: 4/24/2015
COAT: liver ticked, dense/ med harsh
BITE & EYES: normal
HIPS: PennHIP L 0.26 R 0.22, 90th %
THYROID: OFA Normal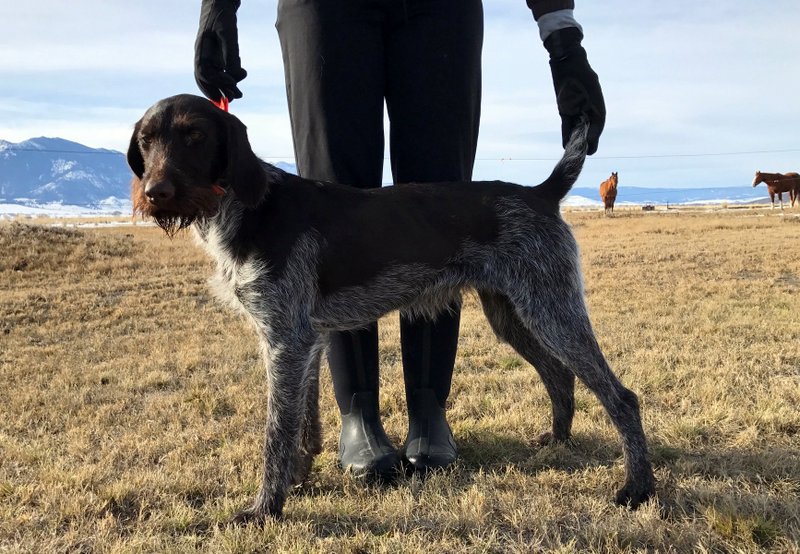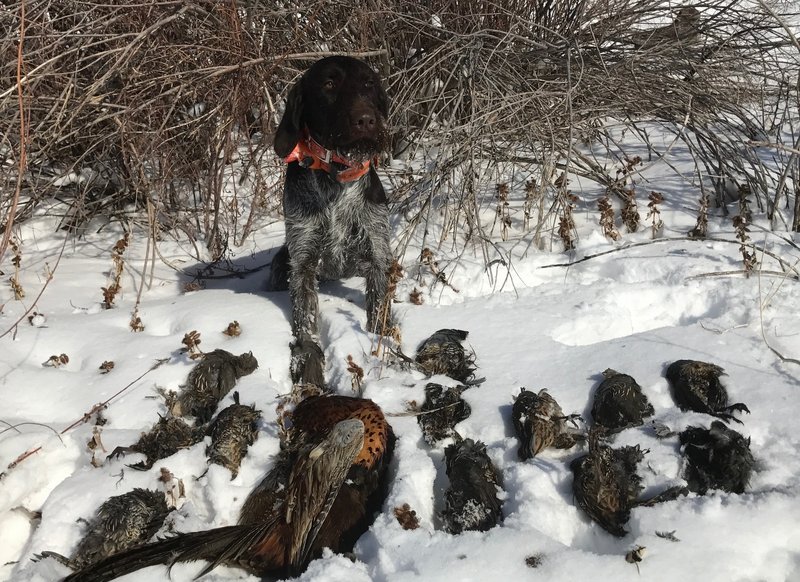 Cooper is a talented young female that we are very excited about. She has had a great hunting season and quickly proving to be a great hunting dog. Cooper has a very aggressive field search that is fueled by her burning desire to find birds. She hunts fast and hard and gets stronger as the hunt goes on. In only her second hunting season, she is already showing an uncanny ability for finding and handling wary birds. Cooper also carries this same level of drive over to the water. Cooper is a very athletic dog with sound conformation, excellent coat, and a very calm, affectionate dog around the house. She is also proving to be one of the most biddable dogs we have trained. She is very smart and always wants to please.
Cooper will be NAVHDA utility tested in the fall of 2017.
-----------------------------------------------
'B2' LITTER
All puppies are spoken for.
Whelped April 30th, 2017
9 puppies - 4 males (2 liver, 2 black) and 5 females (3 liver, 2 black)
SIRE:
BLUE COLLAR BRON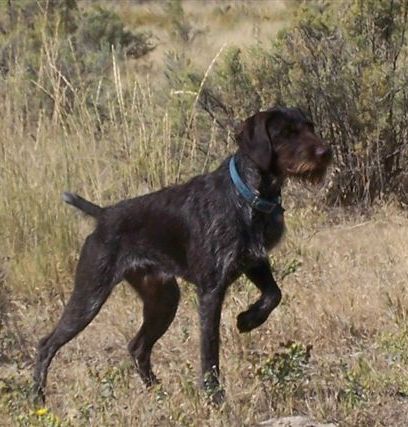 NAVHDA NA: 108/I
NAVHDA UT: 201/I
NSTRA: 6 pts towards Championship
HEIGHT: 25"
WEIGHT: 60 lbs
DOB: 4-20-2007
COAT: liver roan, medium dense/ harsh
BITE & EYES: normal
HIPS: OFA Good
THYROID: OFA Normal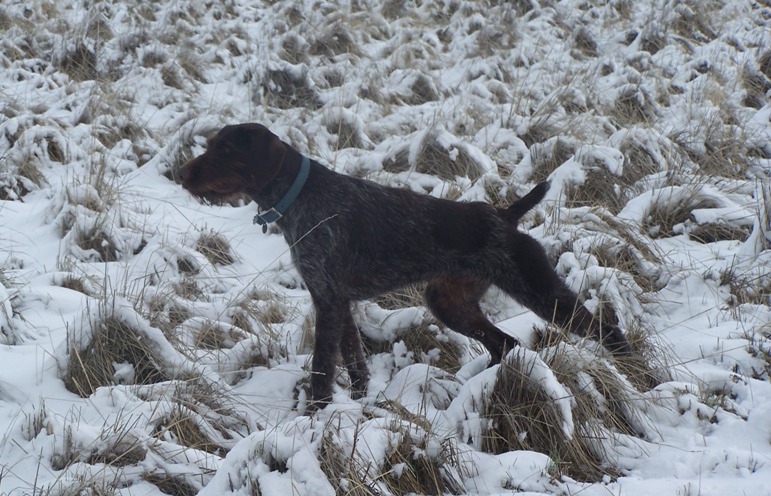 Bron is a product of two highly accomplished parents. Bron's sire, Benelli, is one of the youngest dogs to ever pass the NAVHDA invitational. Bron's dam, Gin, is both a NSTRA champion and a NAVHDA Versatile Champion. True to his lineage, Bron has not disappointed.
Bron is a very driven dog with a fast, wide-ranging field search and a relentless water entry. His water work and duck search are as good as it gets. He is a NAVHA NA prize I, UT prize I, and he has NSTRA championship points.
Bron spends each fall hunting upland and waterfowl in Utah and South Dakota for his owner and breeder, Art Trujillo of Ogden, Utah.
Bron has sired two litters for us in the past and we have been very happy with those puppies. Several tested very well in NAVHDA and turned out to be great personal hunting dogs. One received a NAVHDA utility prize I. Jett, a sire above, is another very talented male from one of those litters.
DAM:
BONE POINT'S KADENCE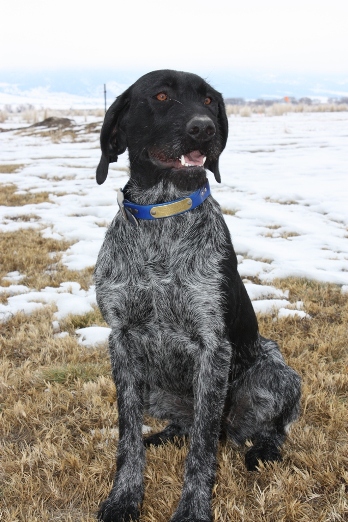 NAVHDA NA: 108/I
NAVHDA UT: 182/II
HEIGHT: 25"
WEIGHT: 62 lbs
DOB: 2-24-2011
COAT: short length, black ticked, dense/ harsh
BITE & EYES: normal
HIPS: PennHIP L 0.26 R 0.23, 90th %
THYROID: OFA Normal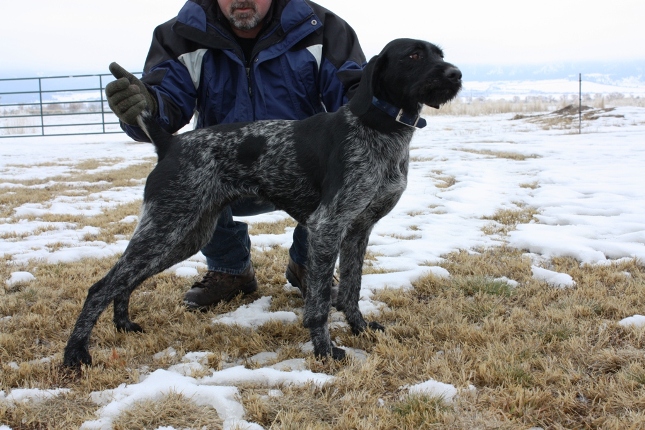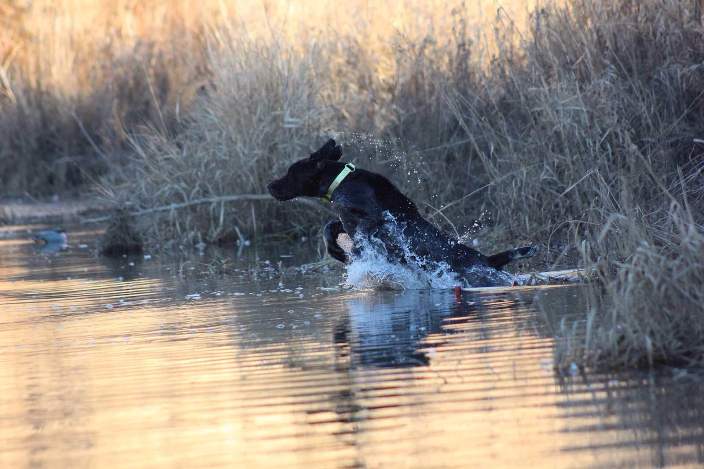 Ziva is one of the best hunting dogs that we have ever owned. She is a very driven, determined dog that developed very early as both an upland and waterfowl hunting dog. During Ziva's first hunting season, at only 8 to 10 month old, she had one of the of the most productive hunting seasons of any young dog we have ever owned. She would search out independently several hundred yards for chukars and huns and hold point for several minutes until we caught up with her. Ziva also retrieved over 100 ducks and geese during her first hunting season, including several limits on the Columbia River in December in tough winter conditions. During the 2015 duck opener, Ziva was the lone dog in the duck blind and retrieved 40 ducks by herself, hammering the water on every retrieve. Ziva is equally impressive on upland and waterfowl, and she performs both at a very high level. She is also one of the most durable hunting dogs we have owned. You can hunt her on chukars on multiple days in a row and she never gets sore feet or breaks down, which is a rare trait in our steep, rocky country. She has earned the nickname "The Beast" for a reason - you just can't break this dog down.
Ziva has a very confident temperament and takes heavy training pressure in stride. She does great with other dogs and our three young children. For such a hard charging hunting dog, Ziva also does a great job of coming into the house and calmly laying on her bed. She is truly the total package dog. He coat is dense and harsh.
Ziva is from a very successful breeding where all 7 puppies were NAVHDA natural ability tested and all 7 received prize Is with an average score over 110 points. Ziva scored a 108/I in the NAVHDA natural ability test and 182/II in the NAVHDA utility test as a 3 year old, only missing a prize I due to steadiness in the field. Ziva is a very high drive dog that hunts the field with a very aggressive search, and her duck search and water work show the same level of incredible desire. She is one of those dogs that is an "automatic 4" in the duck search and she takes a flying leap into the water on the send.
One of Ziva's puppies received a NAVHDA Utility prize I at 17 months old, and another received a prize II at the same age.
-----------------------------------------------
'C2' LITTER
All puppies are spoken for.
Whelped June 26th, 2017
3 puppies - 1 males (1 black) and 2 females (2 black)
SIRE:
DC AFC DUAL SHOT'S BEHIND BARS NA I UT III
AKC:
2010 GWPCA Nationals Futurity 2nd Place
2012 GWPCA #1 Ranked Gun Dog (combined)
2016 GWPCA 3rd National Field Championship
NAVHDA NA: 112/I
NAVHDA UT: 178/III
HEIGHT: 25"
WEIGHT: 63 lbs
DOB: 3-31-2009
COAT: liver roan, med dense / med harsh
BITE: normal
EYES: CERT clear
HIPS: OFA Good
THYROID: OFA Normal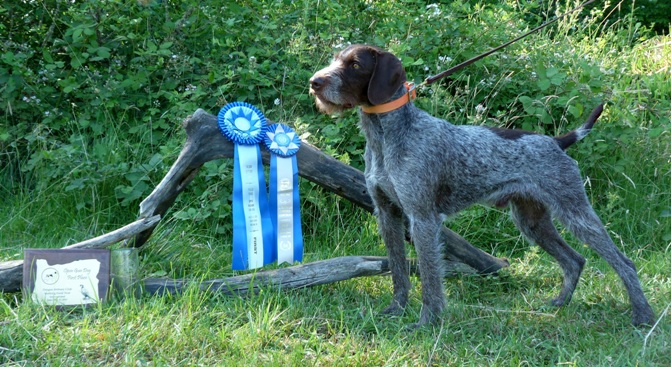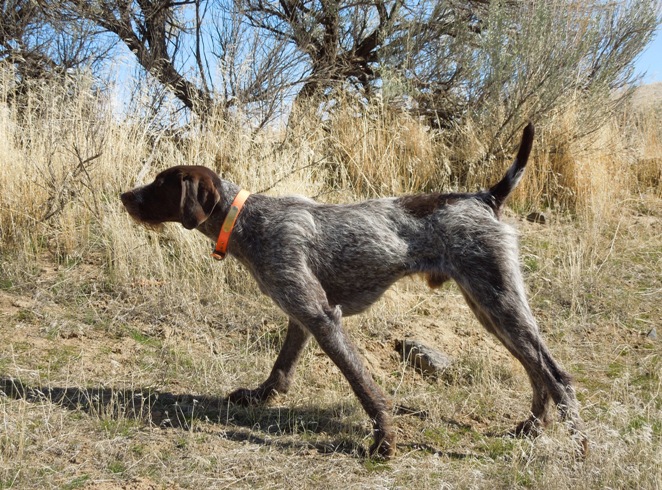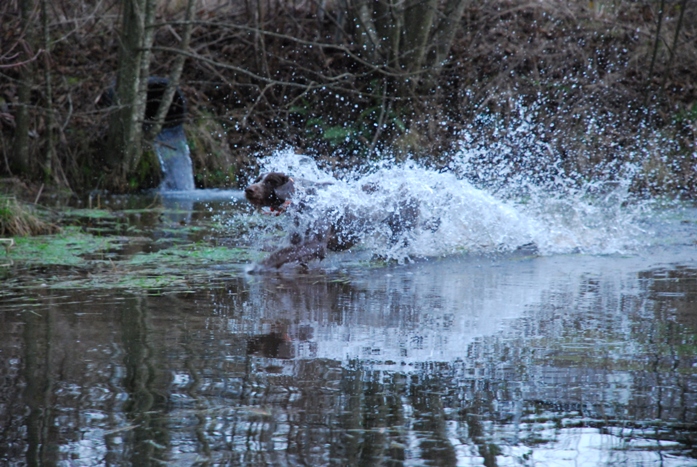 Sarge is a talented male that is truly the total package dog. We have been watching Sarge since he was an 8 week old puppy and we are very happy with how he has developed. In the field, Sarge is a medium range field dog with a very strong nose and point. He is very honest on his birds and handles them well. Sarge's field talent combined with his trainability allowed him to quickly mature into a competitive horseback field trial dog as a 2 year old. Sarge completed the coveted dual champion shortly after his 3rd birthday. While Sarge is a very strong field dog, his water work is equally impressive. From a very early age Sarge has loved the water. He is a retrieving maniac that just POUNDS the water to retrieve. Sarge also has a very nice temperament and sound conformation.
We have watched Sarge run the NAVHDA NA test, we watch him run the GWPCA National Futurity field trial where he placed 2nd, and we have hunted wild chukars over him. A Sarge daughter, NFC DC AFC Dual Shot's Flying, won the GWPCA 2016 National Field trial while Sarge himself placed 3rd. His puppies consistently score very well in their NAVHDA natural abilty tests, but most imporantly, they are the type of dog that we like. We have had two litters by Sarge and have been very happy with how he has crossed into our current dogs.
Sarge is owned by Karla Hawkins and Wayne Yamashita, and he is trained and handled by Wayne.
DAM:
BONE POINT'S VIDA
NAVHDA NA: 102/III at 5 months
NAVHDA UT: 182/II
HEIGHT: 23"
WEIGHT: 50 lbs
DOB: 3/10/2015
COAT: short length, black ticked, dense/ harsh
BITE & EYES: normal
HIPS: PennHIP L 0.36 R 0.36, 60th %
THYROID: OFA Normal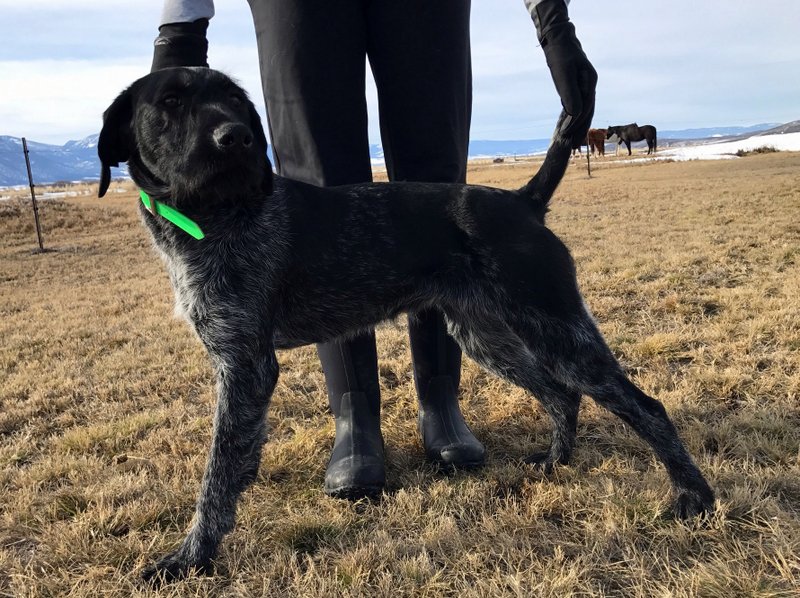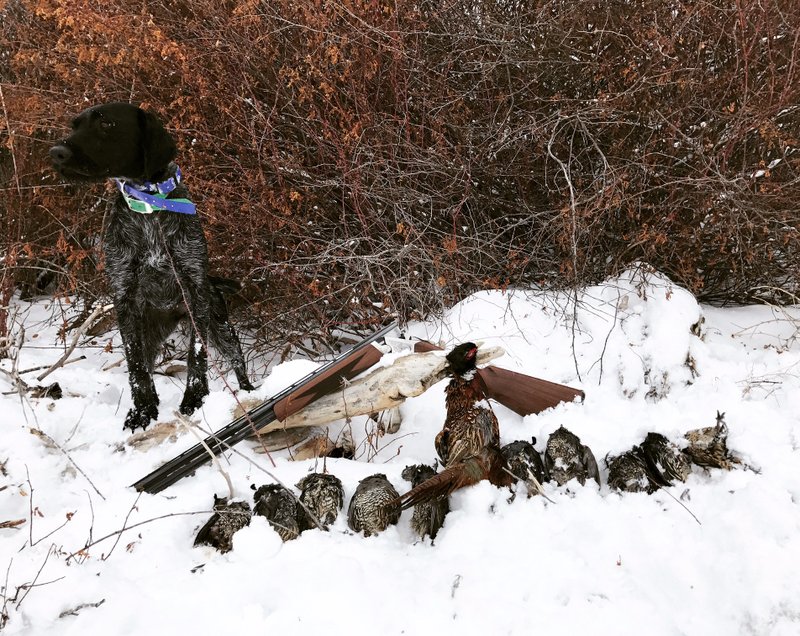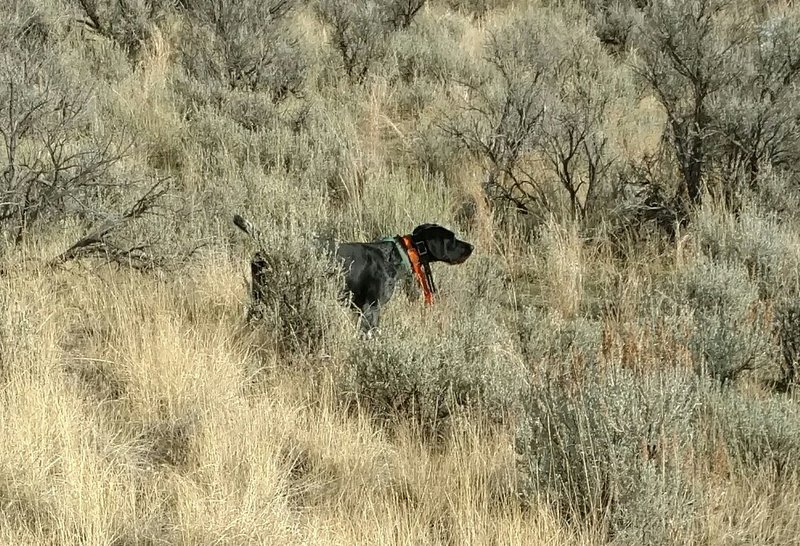 Stormy is a clone of her dam, Ziva, in both looks and talent - just a smaller version. Much like her dam (Ziva), sire (Max), and aunt (Tater), Stormy possesses an incredible level of desire that very few dogs have, which allows her to succeed in the toughest, most demanding hunting conditions. She shares that same family trait of a having a field search so aggressive and focused on finding game, that she will run as wide as you let her. The same level of desire carries over to her water work while hunting ducks in cold temperatures, or searching for down cripples. Stormy has a very intense point and she is also a strong retriever. She is a tough dog that can take heavy training pressure and progress very quickly, and she is best suited to the hands of an experienced handler that is capable of handling tough, high-drive dogs. Stormy is a very affectionate dog around the house and is also great with kids and other dogs.
Stormy is from a very talented breeding between Max and Ziva that received a NAVHDA Natural Ability Breeder's Award and also had two puppies receive a prize I and a prize II in the utility test at 17 months old. Stormy is co-owned by Brett Wood of Logan, Utah. Brett has owned and trained VC Bone Point's Elmo NA I UT I and Bone Point's Magnus NA I and UT I, yet still states that Stormy may be the most talented of them all. Stormy will be utility tested in the fall of 2017.
-----------------------------------------------
© Bone Point Kennels