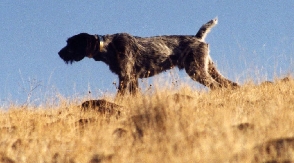 Our breeding program is geared towards producing some of the finest versatile hunting dogs in North America. We hand-select our future breeding prospects from the most proven genetic stock available. From here, each dog will be hunted hard on upland game and waterfowl, undergo a strict training and evaluation regimen as well as being NAVHDA natural ability and utility tested. While most turn out to be fantastic hunting dogs, only a very few will become a part of the breeding program. We believe that in order to consistently produce the best dogs we also have to maintain the most stringent breeding requirements. You can't produce the best dogs by breeding to the same standards and making the same excuses. No matter how great the breeding, we feel that you must go through several dogs to find the great ones. The bar must be raised and the same strict standards must apply to the males and females.
At Bone Point Kennels our goal is to produce high-caliber versatile gun dogs that can compete with the field specialists in the uplands and with the retrievers in the marsh. We feel that just because this breed is a 'jack of a all trades' it does not have to be a 'master of none'. Below describes what we look for in our breeding stock, what we strive to produce and what you can expect from a Bone Point puppy.
FIELD WORK
We put great value on dogs that show outstanding bird-finding and bird-handling abilities at a young age. We look for a strong, bold search driven by the dog's burning desire to find birds. We prefer dogs that search with a high head using air scent. A superb nose is essential to a great dog and will enable a dog to excel in the poorest scenting conditions. Dogs with outstanding noses can also point birds from great distances which can be an asset when hunting late season, wary birds.
We prefer hard-driving dogs that can adjust their range according to the terrain and conditions. Our best dogs will stretch out several hundred yards, if needed, to find huns and chukars in the wide-open deserts of the northwest, yet require no hacking to keep them within gun range for pheasants or forest grouse. It is that delicate balance of in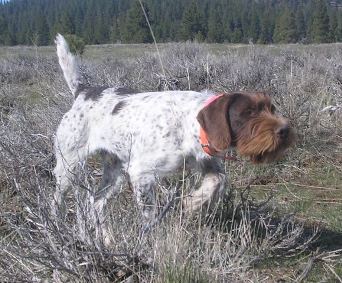 dependence, cooperation and intelligence that allow for a dog to excel in such a variety of conditions. We breed for the foot hunter, however, we do strive to put enough power in our dogs that a handler should be able to make a competitive horseback field trial dog should they choose to go that route. We feel that you can always take some out of the dog but it's hard to put anything back in.
We prefer an intense, stylish point with a high head and tail. A strong pointing instinct is necessary for dogs that are required to hold birds when they several hundred yards away or out of sight from their handler.
WATER WORK
A well-bred wire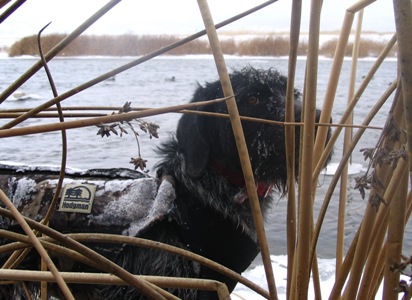 hair should make an excellent waterfowl hunter. We prefer dogs that pound the water with enthusiasm to retrieve. We select dogs with strong retrieving instinct, water love, tenacity and coat to ensure we are producing dogs with strong inherent abilities to hunt waterfowl in the harshest conditions that mother nature has to offer. Many of our dogs have made great duck hunters and several have virtually trained themselves for the NAVHDA utility duck search. Breaking ice to retrieve should be second nature for a well-bred wirehair.
TEMPERAMENT
Mental stability is one of the most important aspects to breeding great versatile hunting dogs. We prefer confident dogs with stable, bullet-proof temperaments. Shy, sensitive or aggressive dogs all have temperament flaws. We have no tolerance for lack of mental soundness. Our wirehairs are a valued member of the family and must get along well with people, children and other dogs. They must also have a temperament suited for taking extensive training. Most wirehairs make great family dogs. Many newcomers to the breed have been amazed by their ability to "turn it off" in the house. They make very loyal companions and thrive on attention from their families.
HEALTH & LONGEVITY
Along with temperament, quality of health is one of our highest priorities. The strongest and healthiest dogs live long, happy lives and are able to still hunt at 11, 12, and even 13 years old. Quality of health is genetic and some breeds or lines of dogs are more prone to shorter life-spans, cancer, hip and elbow dysplasia, seizures, bloat, autoimmune disorders, and other diseases. We certify all of our breeding stock as being free of hip dysplasia through OFA or PENNhip and being free of autoimmune hypothyroidism through OFA. Although relatively uncommon, hip dysplasia and hypothyroidism are two of the most common health problems in the German Wirehaired Pointer breed. We also monitor the overall health and longevity of dogs throughout their life and use this information to ensure that we are breeding only the healthiest, most robust animals.
COAT & CONFORMATION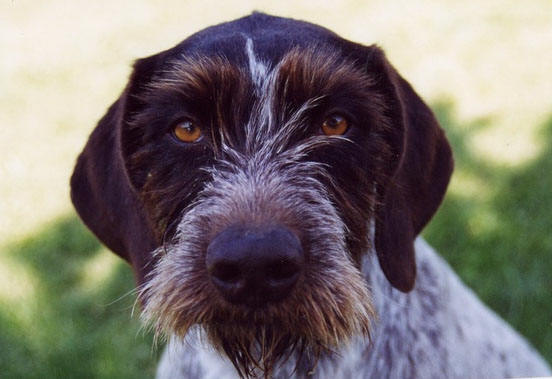 A thick, water-repellant, wire coat is the breed's most distinct feature. We prefer a dense, harsh, flat-lying coat that is 3/4"-1 1/2" in length. We feel that this coat is most beneficial to the dog in both the field and the water.
A dog's conformation is an important factor in determining whether the dog can hunt all day, day in and day out. We prefer medium built dogs, longer than they are tall, and "leggy" in appearance. We prefer males 58-63 lbs and females 50-60 lbs. We like athletic dogs that are build to run. A dog with truly great conformation almost appears to float across the terrain in an effortless manner. We also place a high priority on dogs with tough feet, which are a necessity when hunting multiple days in a row in rugged chukar country.