---------------------------------------






BONE POINT'S MAGNUS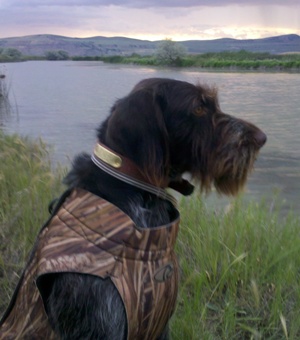 NAVHDA NA: 112/I @ 7 mo
NAVHDA UT: 204/I @ 28 mo
VHDF AHAE: 166 @ 15 mo
DOB: 2/3/2012
HEIGHT: 24"
WEIGHT: 58 lbs
COAT: short/medium length, liver roan, dense/ med harsh
BITE & EYES: normal
HIPS: PENNhip R.25 L.29, 90th percentile
THYROID: OFA Normal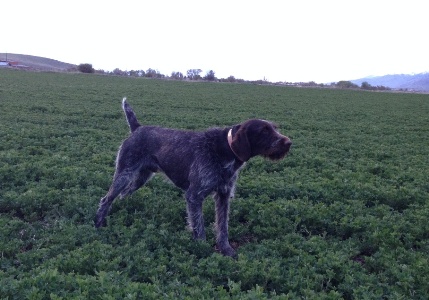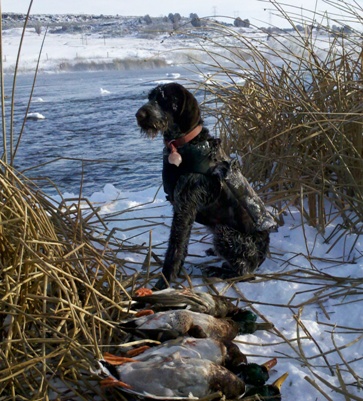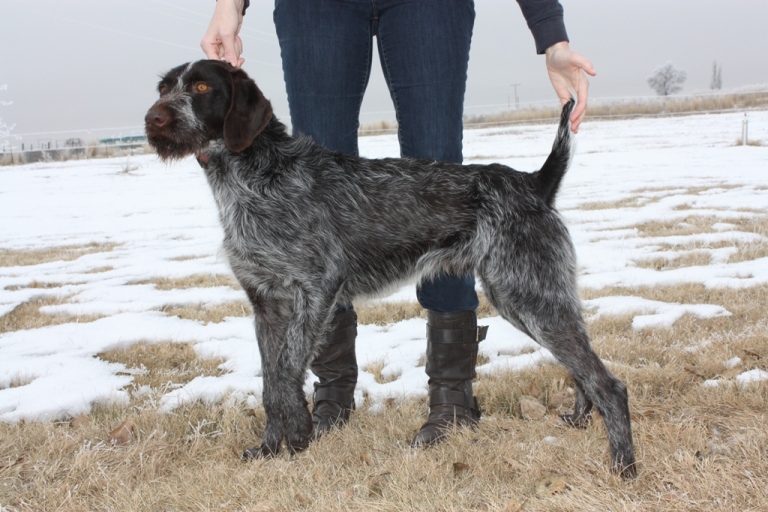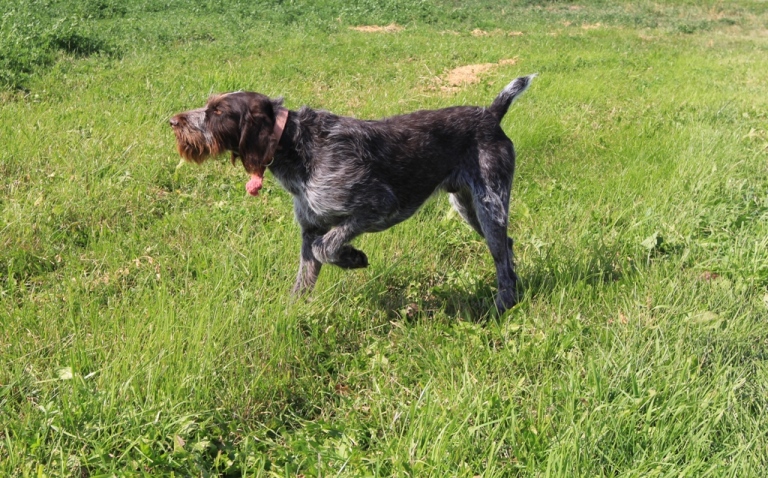 Max is one of the most talented dogs that we have produced. His desire for game on land and water is unparalleled. Max combines the best of his very talented parents, Luke (Lager v den drei Teufeln) and Allie (McNally's Super Allie). He is a turbo-charged field dog with breathtaking style and intensity, and he is a water-pounding duck demon in the duck blind. Max was hammering the water to retrieve ducks in 10F icy weather when he was 8 months old.

Max ran the VHDF advanced hunting aptitude evaluation (AHAE) at the very young age of 15 months old. He had hunted ducks the winter before and had only seen one live duck in training before the test. As a testament to Max's innate water desire, his AHAE duck search ended at 20 minutes with Max over 200 yards away buried in a cattail marsh. He received maximum scores of '10' in Field Search, Nose, Blind Water Entry and Search Behind the Duck. He received an impressive '11' in overall Desire, which includes an extra point for showing a remarkable level of desire throughout the test. Max also earned a maximum '4' in the NAVHDA utility duck search at 19 months of age. He performed prize I level work in all areas of the utility test except Steadiness in the Field, which is impressive for such a young age. At 28 months old Max ran in his second utility test and scored a maximum 204/I. At a very early age on land and water, Max continues to prove that he just no quit in him.

Similar to his dam, Allie, and littermate Harley, Max actually has a very calm disposition and is a gentleman around the house.

To date, Max has sired several great personal hunting dogs and high-scoring NAVHDA dogs. To date, he has sired (1) VC, (6) UT prize I dogs, and (5) UT prize II dogs.

Max is owned and trained by Brett Wood of Logan, Utah.




------------------------------------------------------




BONE POINT'S GUNNAR - "Odin"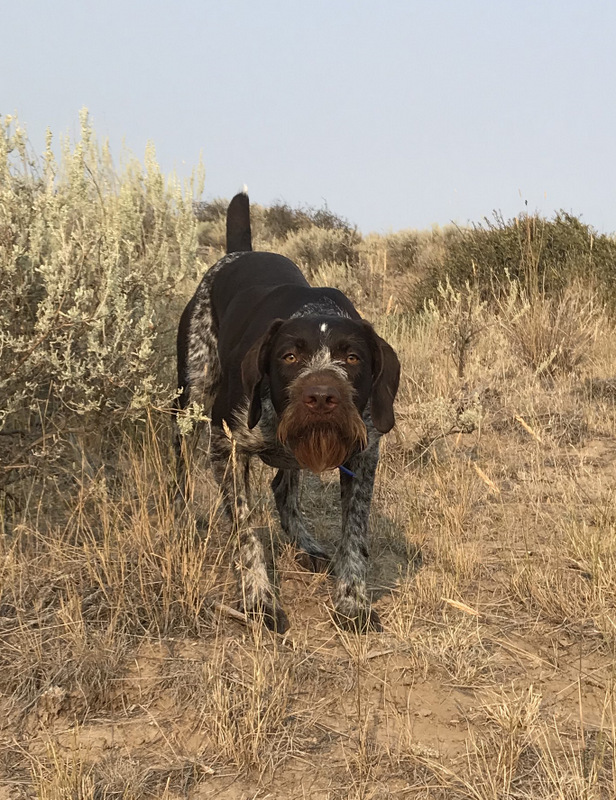 NAVHDA NA: 107/II at 7 mo
VHDF HAE: 70 pts at 15 mo
VHDF AHAE: 170 pts at 19 mo
NAVHDA UT: Summer of 2021
DOB: 1/31/2019
HEIGHT: 24.5"
WEIGHT: 62 lbs
COAT: short length, liver roan, dense/harsh
BITE & EYES: normal
HIPS: PENNhip L.22 R.28
THYROID: OFA Normal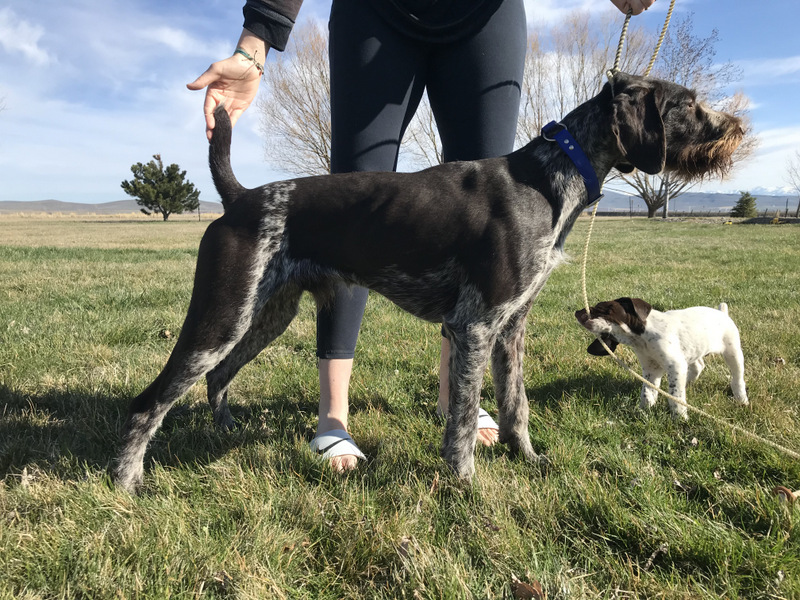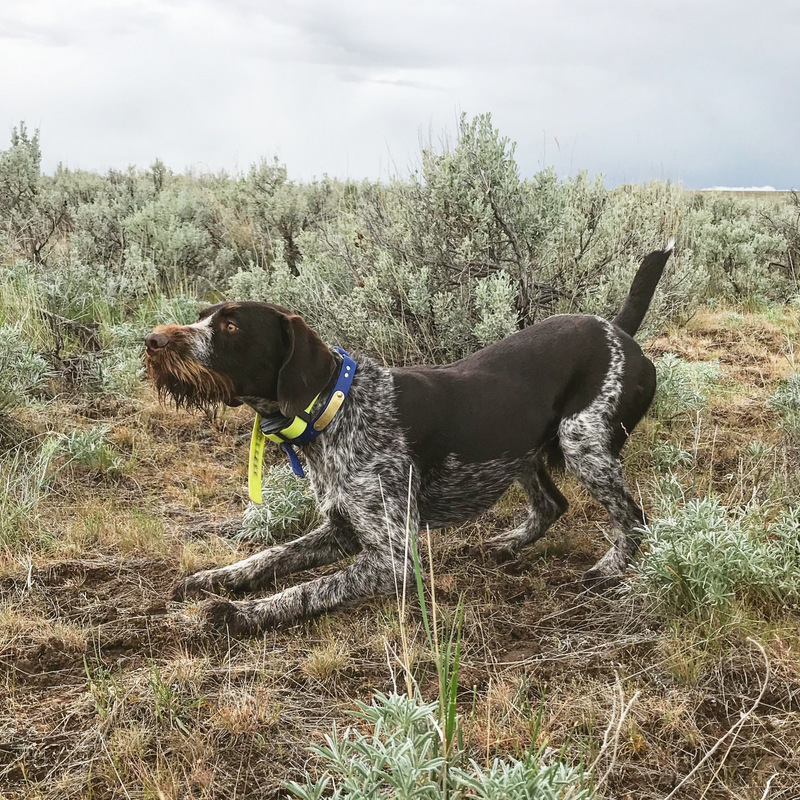 Odin is a precocious young male with incredible raw talent. We haven't been this excited about a male in 20 years and we expect him to have a big impact on our breeding program. When you break down all aspects of the versatile dog, he is exceptional in nearly all of them. His desire and intensity on game is as good as I have ever seen. He has a very long nose. He hammers the water to retrieve and has a natural duck search. He is a dog that naturally works head-high on game, but is a fantastic tracking dog, when needed on cripples. His work ethic, cooperation and trainability are as good as you can ask for - he has a lot of bottom and he wants to work, but he is a dog that needs an experienced handler. Odin is one of the strongest natural retrieves I have seen and has already made several very nice blind retrieves on chukar this year. He has a friendly personality to our kids and strangers, and he gets along well with our other dogs.
Odin scored a maximum 70 points in the VHDF HAE test, which is not an easy task. He ran the VHDF AHAE test at 19 months old where he scored a very high 170 pts with scores of 11 (for exceptional work under difficult circumstances) in Search, Search Behind the Duck, and Desire.
Odin is learning to apply all of his talents on wild birds this year and we have no doubt that he will be a great hunting dog with experience.
Odin is out of a very tight linebreeding and we expect this to contribute to his prepotency as a sire. His dam, Ziva, is one of the best dogs we have ever owned and many of our nicest dogs in recent years are out of her. His sire, Blitz, is one of Jeff Funke's top producing males. In addition, he is linebred on the great producing Lager v den drei Teufeln. When you combine these genes with Odin's talent, we fully expect him to be a great producer for our breed.
Odin is co-owned with Nathan and Christy Grimm of Pasco, Washington.

----------------------------------------




VC BONE POINT'S VOYAGEUR
NAVHDA NA: 112/I @ 5 mo
NAVHDA UT: 193/I @ 1 yrs 5 mo, 201/I @ 2 yrs 3 mo
DOB: 3/10/2015
HEIGHT: 25"
WEIGHT: 64 lbs
COAT: short/medium length, liver ticked, med dense/ med harsh
BITE & EYES: normal
HIPS: PENNhip R.19 L.19, >90th percentile
THYROID: OFA Normal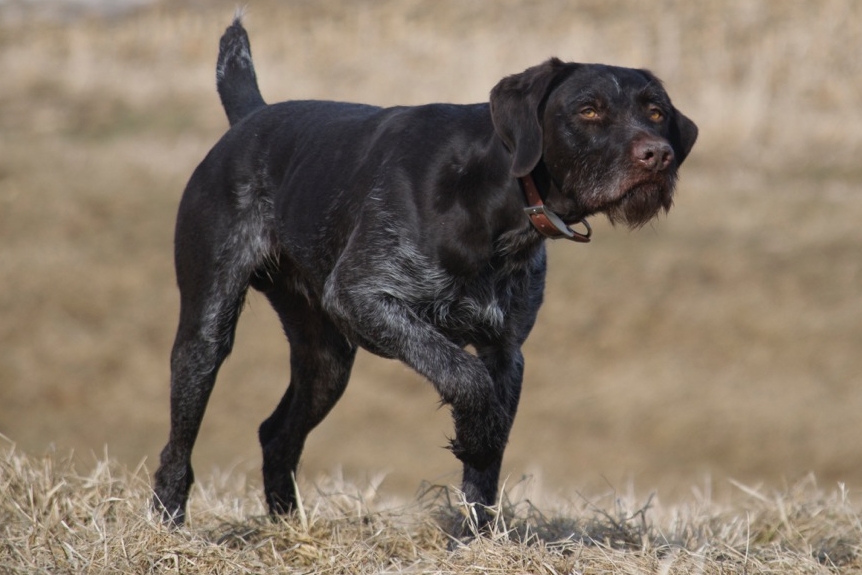 VC Bone Point's Voyageur (Wesson) is a liver roan German Wirehaired Pointer that weighs in around 68 pounds with a medium dense medium harsh coat. In our opinion, Wesson is as good as it gets. He is everything we are looking for in a German Wirehair and so much more! We are extremely excited to continue seeing what he can produce as a stud.

NAVHDA- Wesson earned a prize 1, with 112 points, in his Natural Ability Hunting test. He earned a prize 1, with 193 points in his Utility test when he was 1.6 years old. Wesson was one of the youngest dogs (2.6 years old) to pass the 2017 Invitational, and he scored a maximum of 200 points. He was 1 of only 8 dogs out of the 2017 Invitational to score the maximum points. Wesson is an absolute pleasure to work with picking up tasks with very few reps. He is super intense and driven yet incredibly biddable.

Wesson spends the majority of his hunting seasons in the northwoods of Wisconsin chasing ruffed grouse and woodcock as well as goose and duck hunting. He also hunts each year out west for pheasant and sharp-tail grouse.

Wesson is good around kids and has a great temperament and demeanor. He is always excited to hunt and can relax in the house.

Wesson is owned by Nathan Steeber of Centuria, Wisconsin.




---------------------------------------




BONE POINT'S SALTY GUNNER MAC

NAVHDA NA: 112/I @ 8 mo

NAVHDA UT: 198/I @ 2 yrs 8 mo

DOB: 2/4/2014

HEIGHT: 25"

WEIGHT: 60 lbs

COAT: medium/long length, liver roan, med dense/ med harsh

BITE & EYES: normal

HIPS: OFA Excellent

THYROID: OFA Normal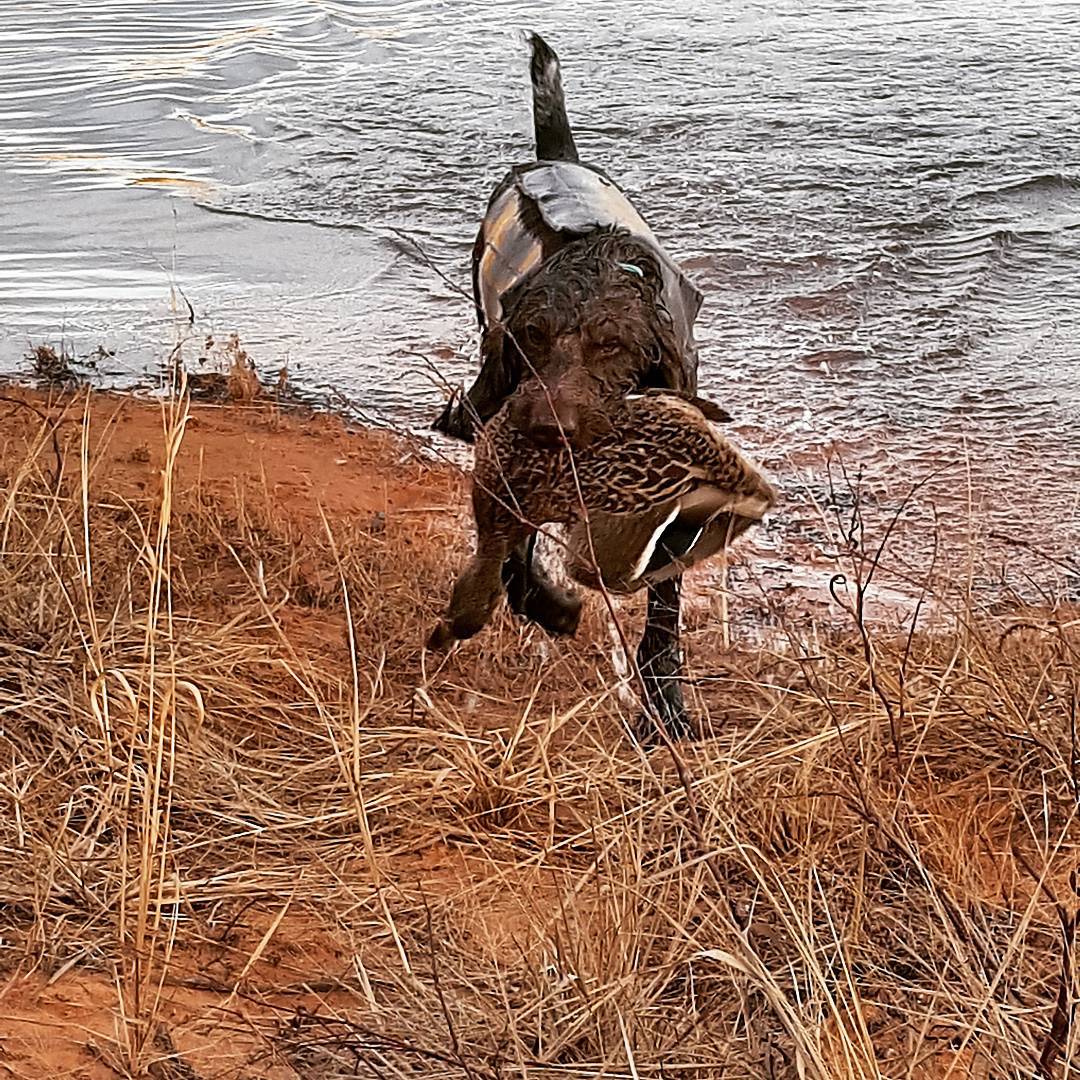 Gunner is an exceptional dog in every respect. While hunting in the uplands, he displays a fast, wide-ranging field search. For us, this has become a much-appreciated attribute, especially when the conditions are tough or birds are scarce, as he has the ability to keep pushing out to find birds when most other dogs lose interest. In addition to his impressive field search, he points his birds with style and demonstrates a keen ability to stand his birds at a distance. Gunner hits the water like a freight train and if necessary will break ice on late season waterfowl retrieves. When training for the duck search, he displayed the ability to consistently perform at a high level by expanding to cover most, if not all, of the water presented to him. Given this, it was no surprise to us that he earned a 4 in Duck Search at his NAVHDA Utility Test. During his first year alone he had over a hundred ducks shot over him, and he exceeded our expectations in his ability and willingness to retrieve in sometimes harsh conditions at such a young age. At home he has a great off switch. In fact, he sometimes thinks he is a lap dog as he cuddles with our kids.
Gunner is owned and trained by Lance McWethy of Moore, Oklahoma.
-------------------------------------------------
BONE POINT'S QUICKSILVER
NAVHDA NA: 110/I
VHDF AHAE: 157 pts
HEIGHT: 24.5"
WEIGHT: 57 lbs
DOB: 4/27/2013
COAT: medium length, black ticked, medium dense/ medium harsh
BITE & EYES: normal
HIPS: OFA Excellent
THYROID: OFA Normal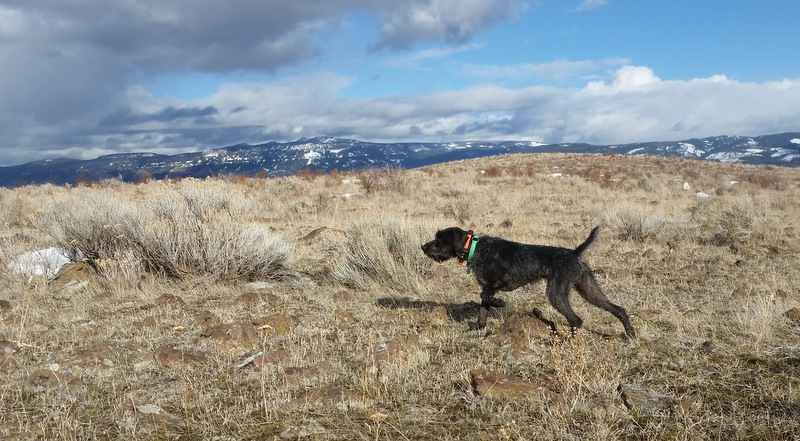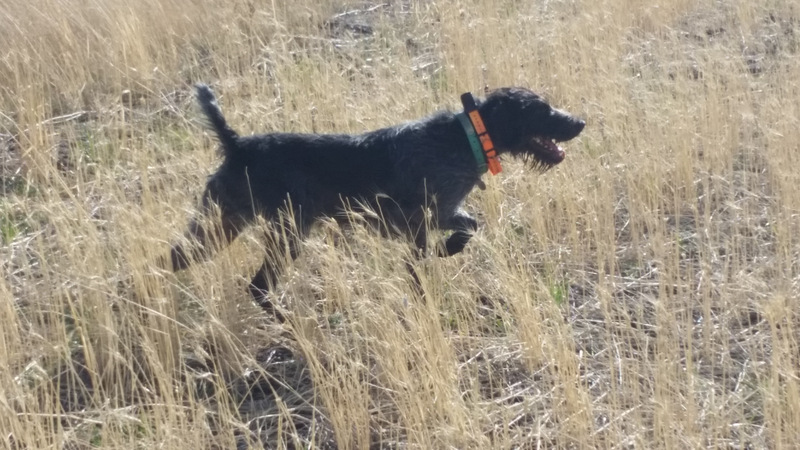 Jett is a very nice young male that we have high expectations for in our breeding program. He is owned by Larry Bennett in La Grande, OR. We have hunted over Jett a number times the past few years and have also trained with him. I hunted over Jett for the first time in 2013 when he was 7 months old, which happened to be one of our worst bird years on record. This was a year when most hunters weren't finding any birds over veteran dogs, yet Jett was producing coveys of chukars and huns for the gun every time out. He was just a natural born bird dog that was always on birds and he knew how to handle them. I hunted over Jett again in 2014 when he was 1-1/2 years old and it was the same story - Jett producing more bird than the older dogs. One of the only other dogs I have ever seen to be this talented of a bird dog at such an early age was Jett's dam, Frida. Obviously, it is a family trait.
Jett's owner primarily hunts upland with him, but Jett enjoys retrieving the occasional duck. I have seen enough of Jett that I know has all of the tools to make an incredible waterfowl dog if given the opportunity. I have done duck search training work with Jett and his water drive is outstanding, as is his natural duck search. Larry often takes Jett with him fishing on the boat and Jett will jump in and take off swimming several hundred yards away, staying in the water for an hour, simply because he loves swimming and looking for ducks. He is a high drive dog on land and water.
Jett is a medium sized dog that is very athletic. He has excellent conformation and has a medium length black coat. His nose is superb and his bird finding and bird handling abilities are second to none. He has excellent style and intensity on point. Jett has a nice friendly temperament. Jett scored a 110/I in the NAVHDA natural ability test and 154 in the VHDF Advanced Hunting Aptitude test where he scored maximum 10s in Field Search, Pointing, Search Behind the Duck, Nose, and Steadiness & Manners. He is a very nice all-around versatile hunting dog on land and water, and before and after the shot. You will simply not find a better natural wild bird dog than Jett. His bird finding and handling skills are elite.
-----------------------------------------------------
BONE POINT'S UNO
VHDF AHAE: 171 pts
NAVHDA UT: 176/II, 181/III
DOB: 8/3/2014
HEIGHT: 24"
WEIGHT: 56 lbs
COAT: short/medium length, liver roan, med dense/ med harsh
BITE & EYES: normal
HIPS: PENNhip R.24 L.27, 90th percentile
THYROID: OFA Normal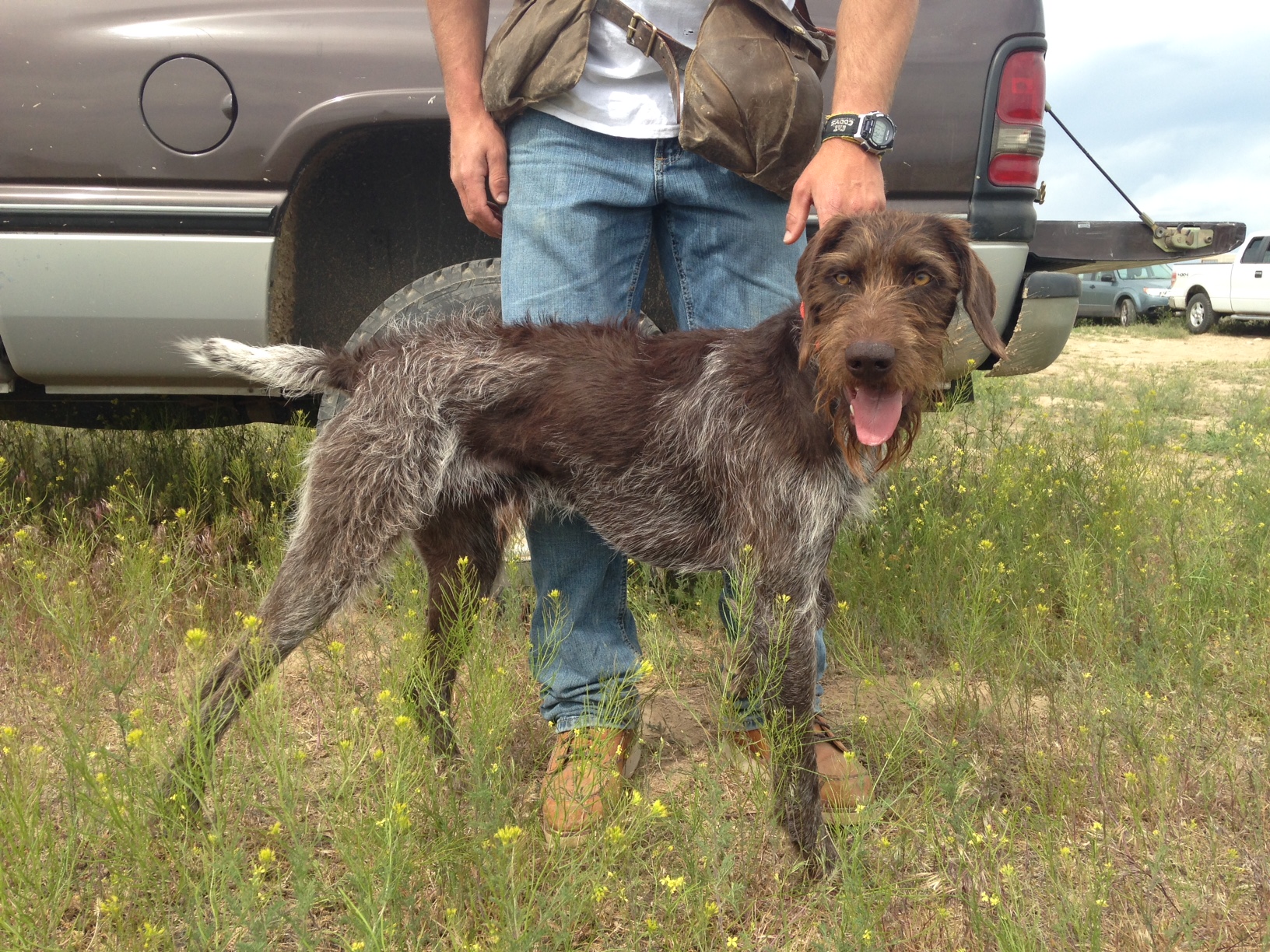 Cecil is owned by Ben Oakleaf of Nampa, Idaho. Ben grew up helping his dad, Ron Oakleaf, train many talented wirehairs in NAVHDA. Cecil has not disappointed. From as early as 4-5 months old Cecil was finding and handling wild chukars and huns. Again, he was just one of those natural bird dogs that does it all, right out of the box. Every experienced dog handler that has spent time with Cecil comments on the dog's outstanding nose. He also possesses incredible desire, on land and water.
Ben tested Cecil in the VHDF Advanced Hunting Aptitude test at 21 months were he scored a very strong 171 points with maximum 10s in Field Search, Steadiness, Nose, Blind Water Entry, Desire, and Search Behind the Duck. Cecil is a very talented young male that is strong in all areas, with an exceptional nose and natural bird finding and handling abilities.
--------------------------------------------------------
BONE POINT'S BOZ - "Boomer"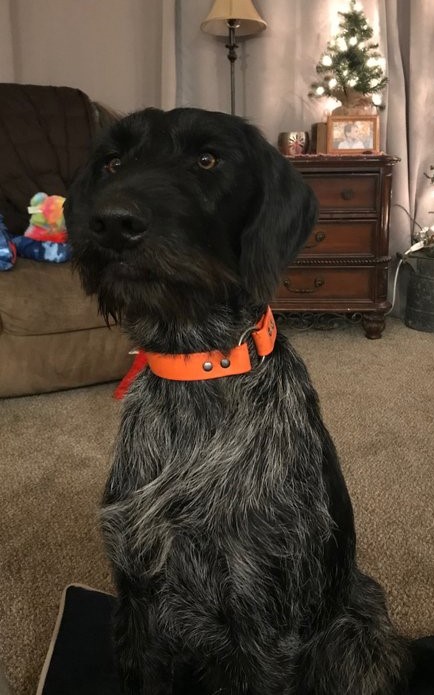 NAVHDA NA: 105/II
NAVHDA UT: 160/III @ 2 yrs 4 mo
VHDF HAE: 70 pts (100%)
HEIGHT: 24"
WEIGHT: 55 lbs
DOB: 4/30/2017
COAT: black roan, dense/medium harsh
BITE & EYES: normal
HIPS: PennHIP L 0.23 R 0.28, 90th %
THYROID: OFA Normal (MSU)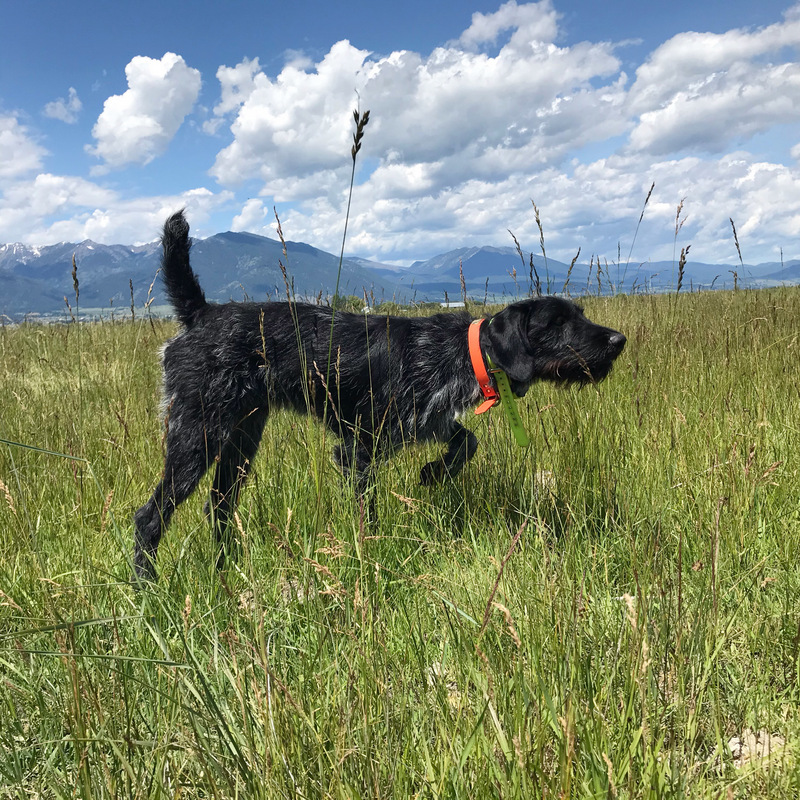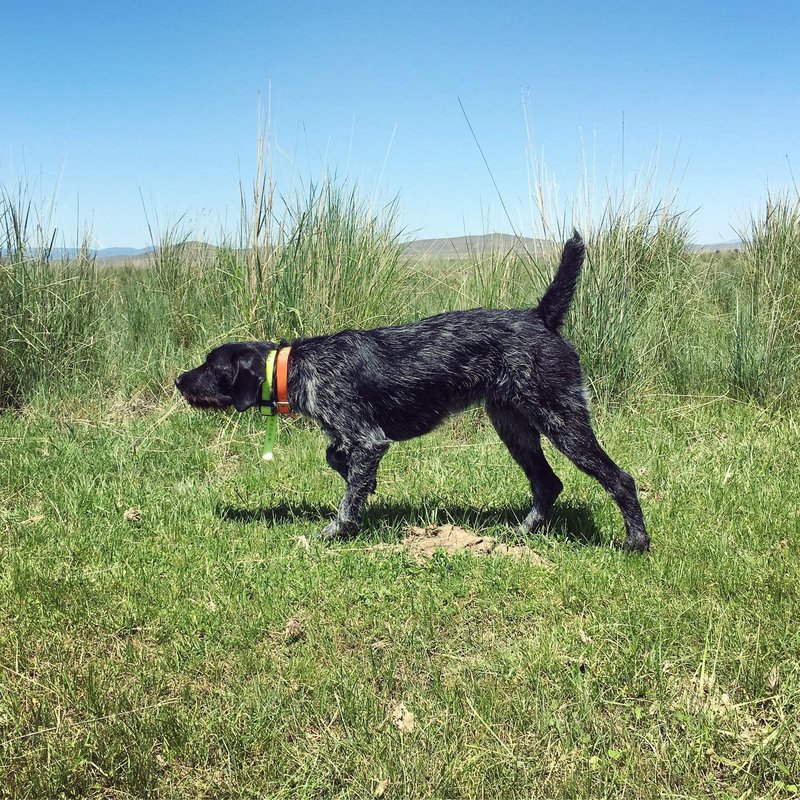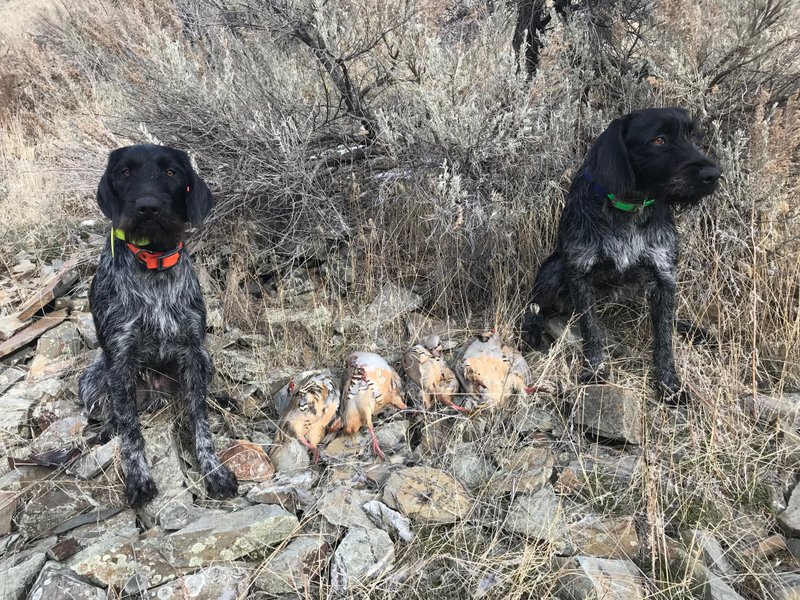 Boomer is an incredibly talented young male that we are very excited about. His drive, run, ground-speed, and style are as good as I have seen in any dog in the German Wirehaired Pointer breed. His exceptional drive is equally impressive on land and water. Boomer is a very tough, confident dog that can take heavy training pressure at an early age. He also possesses a very strong pointing instinct. Boomer loves the retrieving from the water. He is a smaller male, and is very athletic and light on his feet. He is a very affectionate house dog for owners Jeff and Sue Quinn of Pendleton, Oregon.
Boomer scored a maximum 70 pts in the VHDF HAE with an 11 in search. He also received a prize III in the NAVHDA UT test at 2 years old, with obedience and trained parts of the test keeping him from a prize I. He is certainly doesn't lack talent, though. I think he would have also made a horseback field trial dog, had we chosen to go that route. Most importantly, he has been a great companion and hunting dog that just doesn't have any quit in him. We are very excited to see this young prodigy's first litters develop.
© Bone Point Kennels