Occasionally we have started dogs available. Because we are very selective with the dogs used in our breeding program, many of the puppies that we start out are not used for breeding. These dogs are typically sold at 1-2 years old as started dogs. Our started dogs have usually been NAVHDA natural ability tested, have one solid hunting season under their belt and are ready to take hunting.
---------------------------------------------
Bone Point's Windsor
DOB: 4/24/15
Django is a young male that has been hunted around 15 times this fall. He is searching, pointing, and retreiving wild birds. Django is a cooperative, close to medium range dog that is currently working 100-150 yards on the chukar hill and much closer in thick cover. He has a excellent nose and a very strong pointing instinct. He is very catious on birds and naturally honors the older dogs' points. He has mostly hunted upland, but he also likes the water and did not hesitate to retrieve a duck that we shot for him over open water. Django is a calm and affectionate companion and is nice dog around the house. He is excellent with our 3 young children and gets along great with other dogs. Django will make a great dog for somebody looking for a close-to-medium working versatile hunting dog for upland and waterfowl that is also a nice dog around the house.
$2,000
Django has been sold.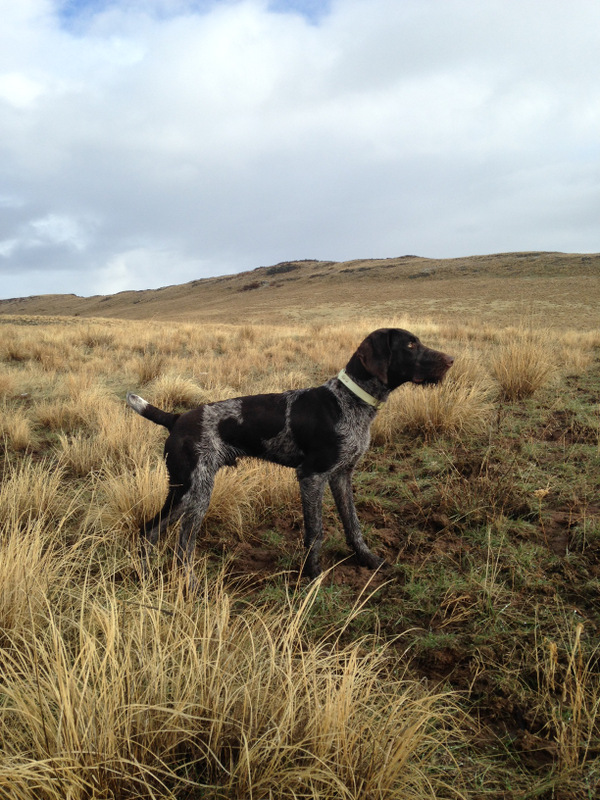 Django honoring an older dog on a covey of chukars
---------------------------------