We are currently accepting deposits for our 2020 litters. We are planning 3 litters in the spring/summer. We are currently evaluating some young females and will post breeding plans as soon as they have been set.
------------------
'K2' LITTER
Planned breeding in spring, 2020
Currently accepting deposits
Details coming soon.
---------------------------
'L2' LITTER
Planned breeding in spring, 2020
Currently accepting deposits
Details coming soon.
---------------------------
'M2' LITTER
Planned breeding in April/May, 2020
Currently accepting deposits
SIRE:
THREE DEVILS PORTER
VHDF HAE: 69 pts
VHDF AHAE: 160 pts
DOB: 5/8/2011
HEIGHT: 25"
WEIGHT: 64 lbs
COAT: medium length, liver roan, med dense/ med harsh
BITE & EYES: normal
HIPS: PENNhip L.31 R.28
THYROID: OFA Normal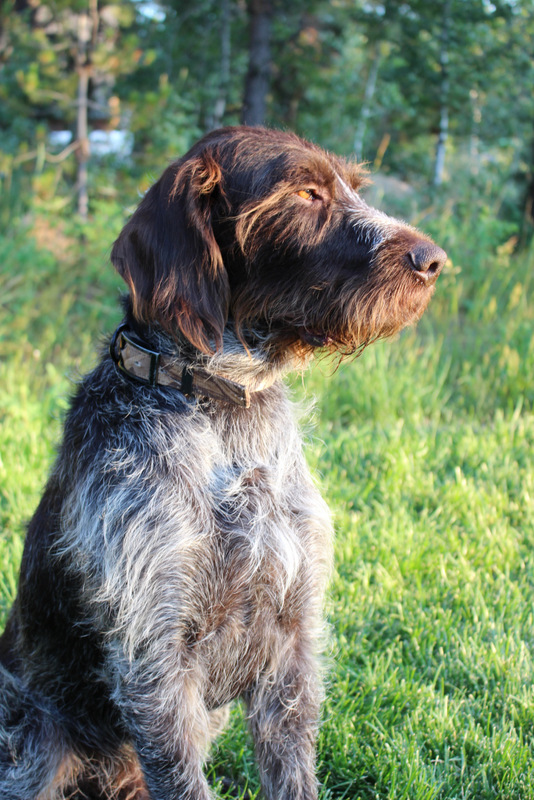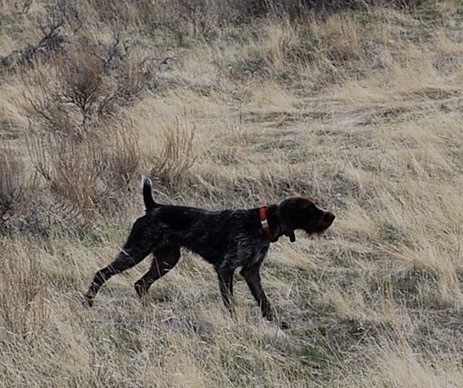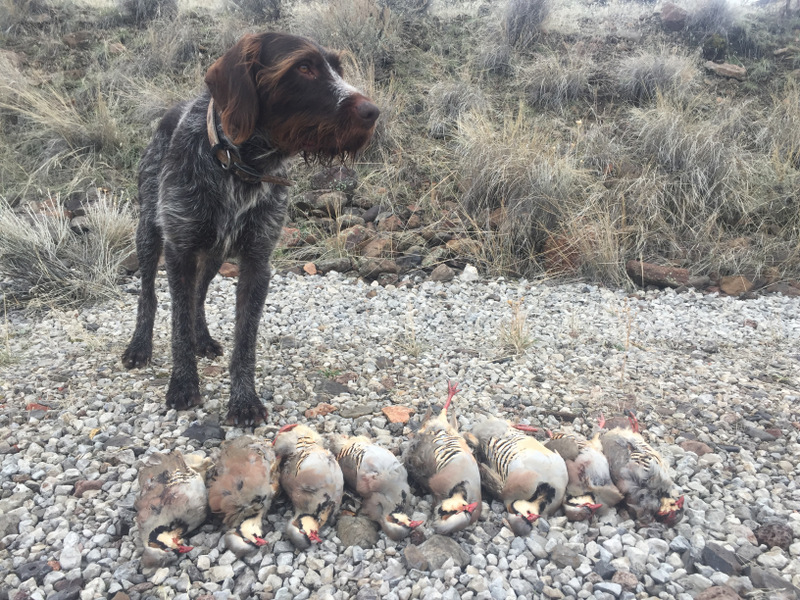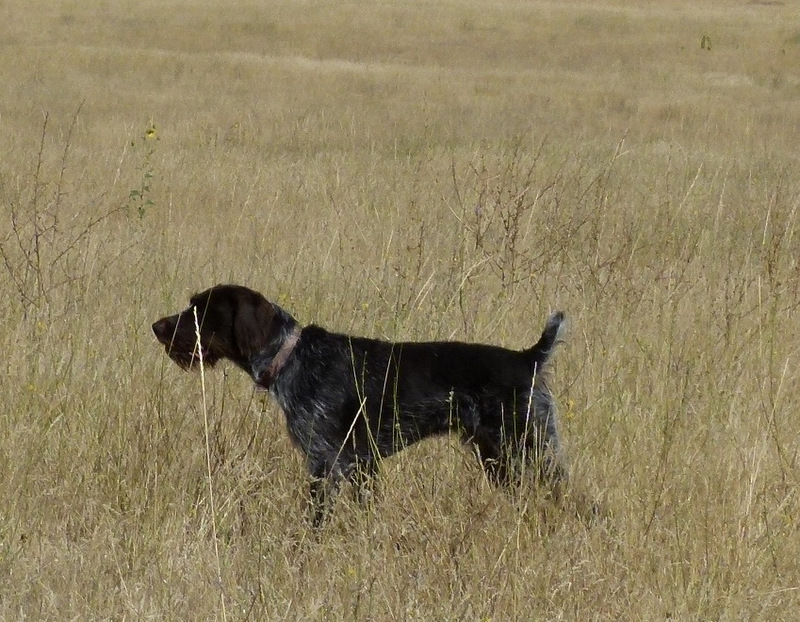 Porter is an excellent all-around versatile hunting dog, owned by Tom Segal of Ontario, OR. I have hunted over Porter multiple times and have been impressed with him both as a hunting dog, and his temperament. Porter is a medium range dog in the field that stretches out a couple hundred yards in chukar country. He has an excellent nose, a very strong point and he handles his birds with caution. He works head-high and has very good style and intensity on point. Porter is a strong retirever on land and water, with excellent water drive, scoring maximum 10s in water in all three of his VHDF tests. Porter has a calm demeaner around the house, and he is great with Tom's young children and other dogs. He has a sound temperament and has handled training with ease.
DAM:
BONE POINT'S MARLEY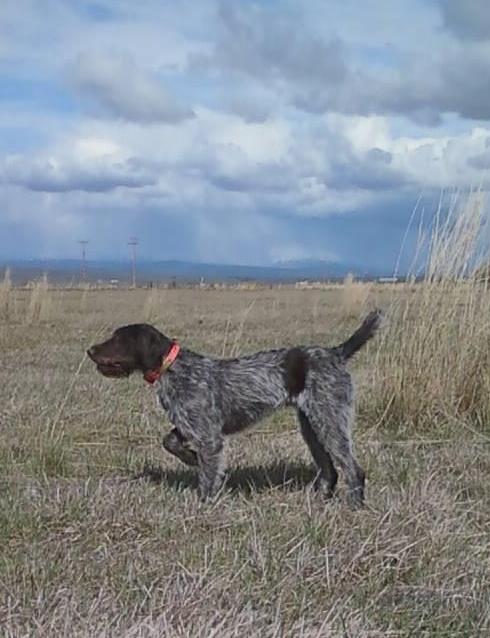 NAVHDA NA: 112/I
NAVHDA UT: 162/III @ 3 yrs
HEIGHT: 24.5"
WEIGHT: 58 lbs
COAT: liver roan, medium dense/medium harsh
BITE & EYES: normal
HIPS: PENNhip R.26 L.26, 90th percentile
THYROID: OFA Normal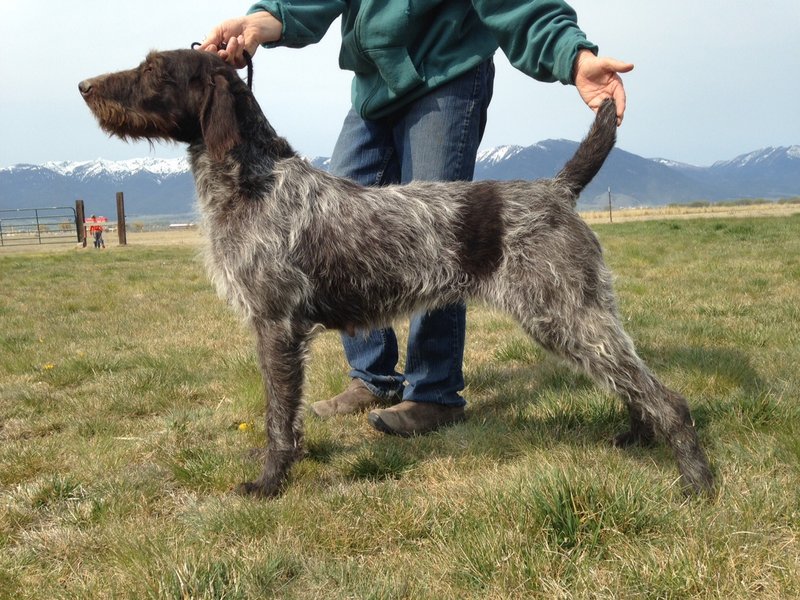 Harley is one of our nicest hunting dogs. She is virtually a clone of her dam, Allie, who was one of our favorite all-time wirehairs - as both an amazing hunting dog and family companion.
Harley has the same aggressive, hard driving search of her dam. She is a fast, stylish dog in the field. She has loved water from very early on and is a very natural retriever. Whether it is in the field or water, she has an extra gear that most dogs just don't have. She simply wants to find birds a little more and is willing to run a little farther, or dig a little deeper to produce them.
As high-powered as Harley is as a hunting dog, you would never know it around the house. Her dam was the same way. She is very affectionate and she is a great family dog inside the house. She is also a very cooperative dog that wants to please.
Harley is out of one of our most successful breedings out of Luke and Allie. This cross really combined to bring out the best of both parents in their offspring. Luke is owned by Jeff Funke of Three Devils kennel and he has produced several very talented dogs.
Seven of Harley's previous puppies have been NAVHDA Natural Ability tested, scoring an average of 105.5 points. One son also received a utility prize I at 2.8 years old.
--------------------------------------------
© Bone Point Kennels