-----------------------------------------------------
'X' LITTER
All puppies are spoken for
Whelped January 27th, 2016
11 puppies - 8 males (5 blacks & 3 livers) and 4 females (4 blacks)
The 'X' litter is a linebreeding out of two of the most talented and driven dogs to come out of our kennel. Both Max and Tater are out of Lager v den drei Teufeln, an exceptional male owned by Jeff Funke that has proven to be a great producer, especially when outcrossed to our fast, stylish, wide-ranging field bitches. Max and Tater are very similar dogs with big-time power in the field and water. They are hard-core meat dogs and both are phenomenal water dogs. Max was bred to Ziva, Tater's littermate, last year and that litter produced some very nice puppies. We expect similar results with this breeding.
SIRE:
BONE POINT'S MAGNUS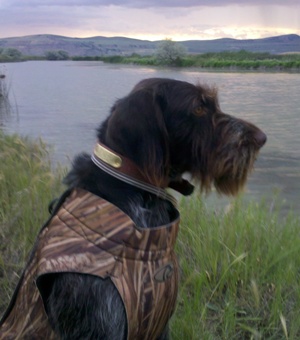 NAVHDA NA: 112/I
NAVHDA UT: 204/I @ 28 mo
VHDF AHAE: 166 @ 15 mo
HEIGHT: 24"
WEIGHT: 58 lbs
COAT: liver roan, med dense/ med harsh
BITE & EYES: normal
HIPS: PENNhip R.25 L.29, 90th percentile
ELBOWS: OFA Normal
THYROID: OFA Normal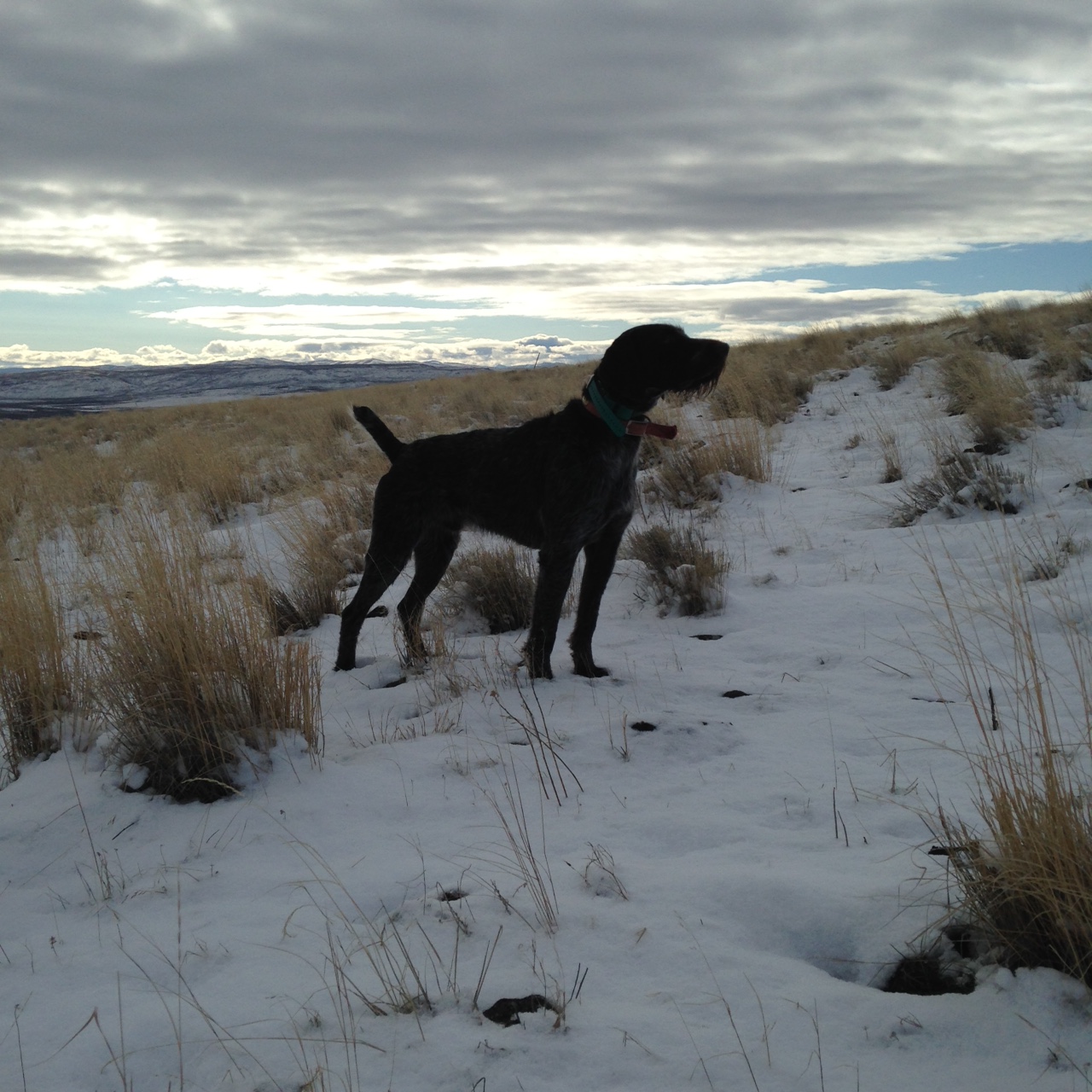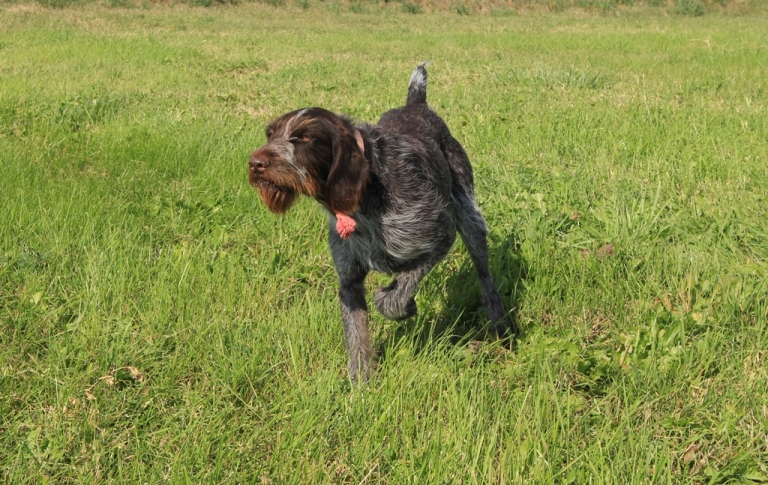 Max is one of the most talented dogs that we have produced. His desire for game on land and water is unparalleled. Max combines the best of his very talented parents, Luke (Lager v den drei Teufeln) and Allie (McNally's Super Allie). He is a turbo-charged field dog with breathtaking style and intensity, and he is a water-pounding duck retrieving machine in the duck blind. Max was hammering the water to retrieve ducks in 10F icy weather when he was 8 months old.
Max ran the VHDF advanced hunting aptitude evaluation (AHAE) last May at the very young age of 15 months old. He had hunted ducks the winter before and had only seen one live duck in training before the test. As a testament to Max's innate water desire, his AHAE duck search ended at 20 minutes with Max over 200 yards away buried in a cattail marsh. He received maximum scores of '10' in Field Search, Nose, Blind Water Entry and Search Behind the Duck. He received an impressive '11' in overall Desire, which includes an extra point for showing a remarkable level of desire throughout the test. Max also earned a maximum '4' in the NAVHDA utility duck search at 19 months of age. He performed prize I level work in all areas of the utility test except Steadiness in the Field, which is impressive for such a young age. At 28 months old Max ran in his second utility test and scored a maximum 204/I. At a very early age on land and water, Max continues to prove that he just no quit in him.
Similar to his dam, Allie, and littermate Harley, Max has a very calm disposition and is a gentleman around the house.
Max is owned and trained by Brett Wood of Logan, Utah.
DAM:
BONE POINT'S KENAI
NAVHDA NA: 112/I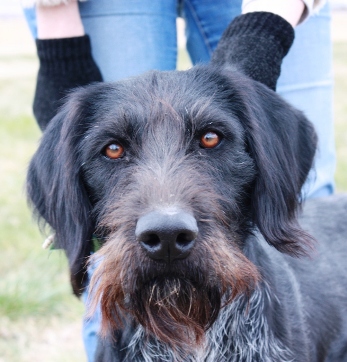 NAVHDA UT: 186/II @ 4 yrs
VHDF AHAE: 144
HEIGHT: 23"
WEIGHT: 56 lbs
DOB: 2-24-2011
COAT: black ticked, dense/ med harsh
BITE & EYES: normal
HIPS: OFA Excellent
THYROID: OFA Normal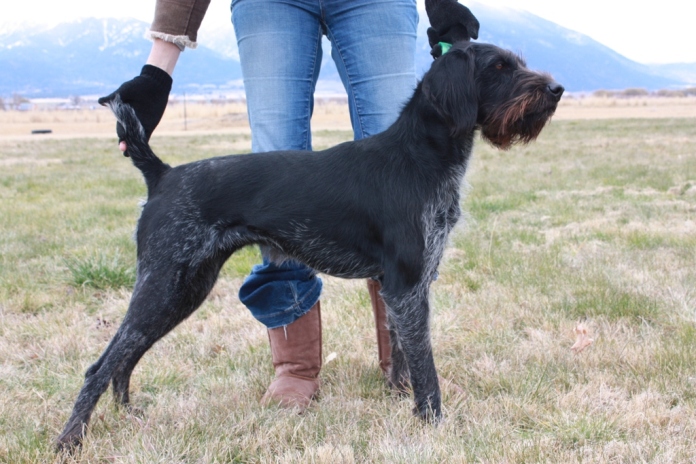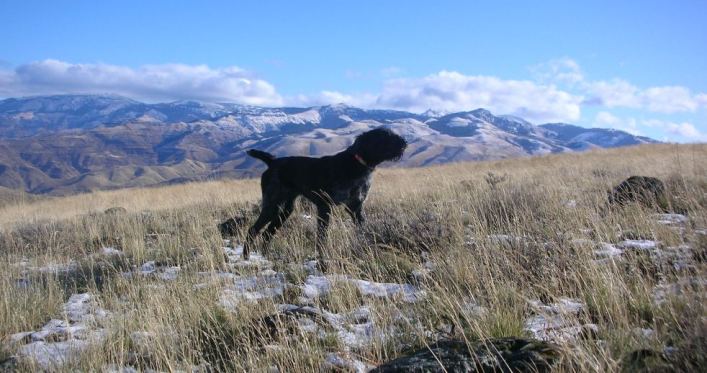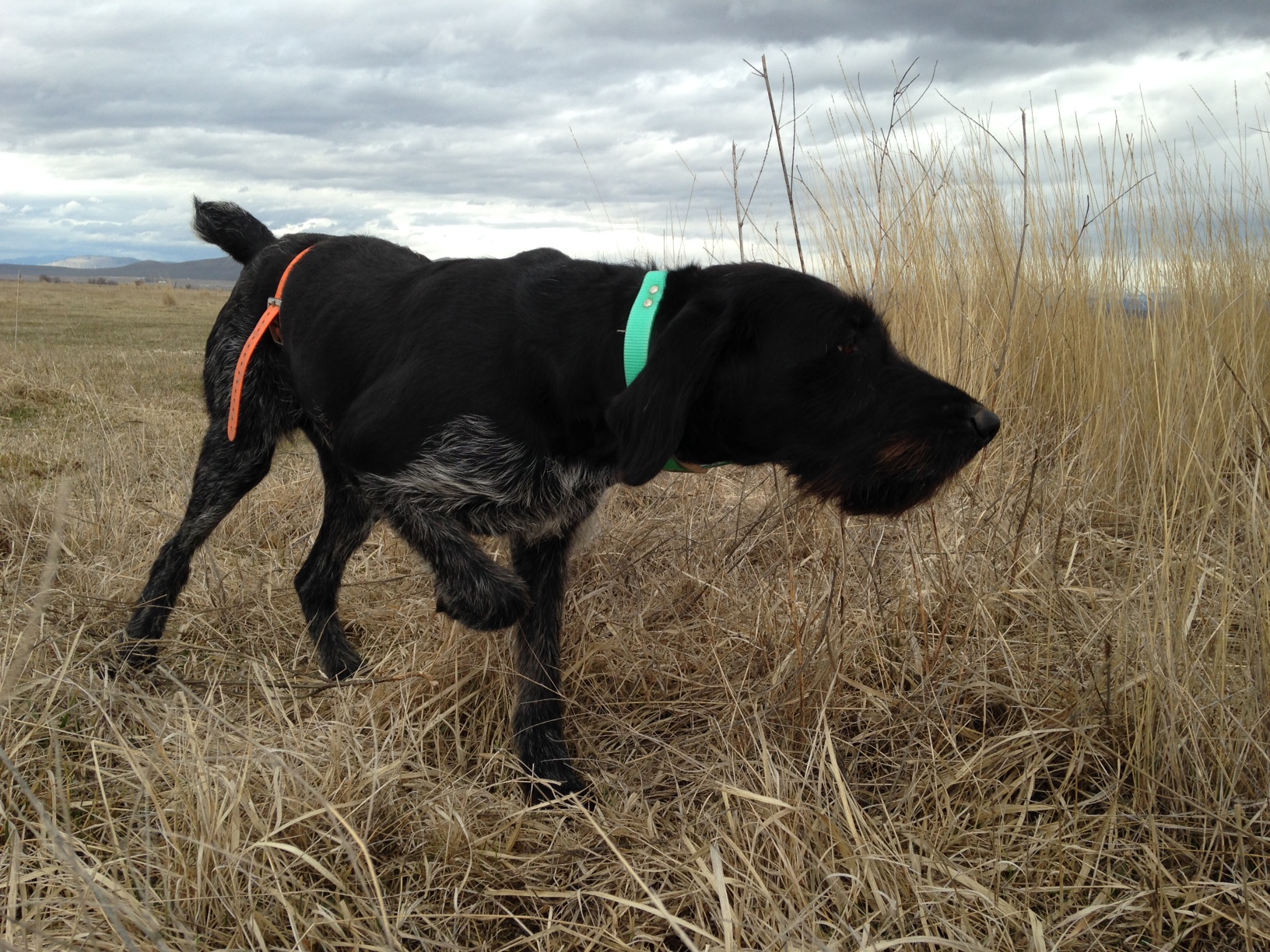 Tater is hard-nosed dog with no quit in her. Her desire for game is off the charts and she is as tough as they come. Her field search is both aggressive and relentless and she will cover as much ground as you will let her. Finding birds is her top priority. Tater retrieved several ducks in her first two hunting seasons. She is a very strong water dog that is impervious to harsh weather. When training for the duck search, you simply take Tater to a lake or marsh and just let her go. She will shred a marsh for a duck and she will not come back without it. Like her dam and grand-dam, Tater is a very strong waterfowl dog and was born with a '4' duck search. Tater's back right knee has been blown out twice due to injury, and surgically reparied, yet she refuses to let that slow her down on the chukar hills. She has that extra level of toughness and grit that excells when the conditions get tough - she just won't let you down.
Tater has an outstanding nose and a very intense point. She can take heavy training pressure at an early age and she is the type of dog that is best suited for an experienced handler due to her level of desire, independence, and toughness.
Tater scored a maximum 112 in her NAVHDA natural ability test. In fact, all 7 puppies in her litter were tested and all received prize Is with an average score over 110 pts. Tater also ran in the VHDF Advanced Hunting Aptitude (AHAE) where she performed very well in the ability subjects, where she scored 10s in Field Search, Pointing, Blind Water Entry, Search Behind Duck, and Nose. Tater also scored a 186/II in the NAVHDA utility test, only missing a prize I due to steadiness in the field.
Like most of our dogs, even though Tater is a high powered hunting dog, she is still a very calm, affectionate dog around the house. She is a very affectionate companion and is great with our children and other dogs.
9 puppies from Tater's first litter have been NAVHDA natural ability tested, averaging over 107 points.
---------------------------------------------------
'Y' LITTER
All puppies are spoken for
Whelped May 16th, 2016
6 puppies - 2 males (1 blacks & 1 liver) and 4 females (3 blacks & 1 liver)
SIRE:
QUESTOR V. DEN DREI TEUFELN
VHDF HAE: 68 (97%)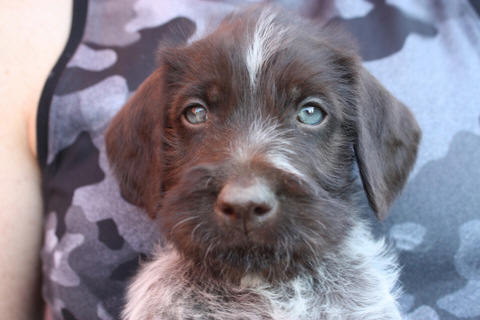 VHDF AHAE: 168 (93%)
VHDF PE: 178 (89%)
VHDF Conformation Eval:
Structure 9 (Very Good), Breed Type 10 (Very Good)
HEIGHT: 24.5"
WEIGHT: 65 lbs
DOB: 5-7-2009
COAT: short length, black ticked, dense/ harsh
BITE & EYES: normal
HIPS: PennHIP L 0.29 R 0.29, 90% percentile
THYROID: OFA Normal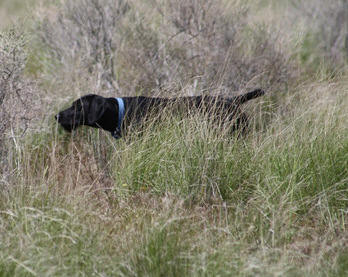 Blitz is a talented male owned by Bradley Spencer. I watched Blitz run his VHDF HAE test several years ago and was impressed with the dog. Bradley trained Blitz himself while he was in high school, and he handled Blitz to three very successful scrores in VHDF tests, including the PE test which requires advanced training. Blitz has developed into an exceptional upland and waterfowl hunting dog under a first-time handler and we are looking forward to his contribution to the breeding program.
DAM:
BONE POINT'S MARLEY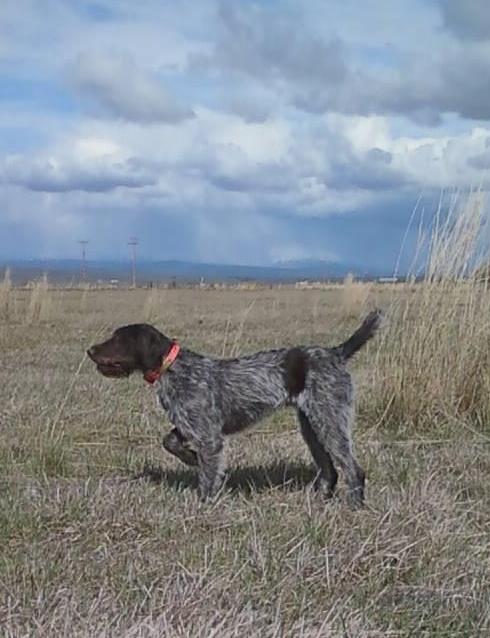 NAVHDA NA: 112/I
NAVHDA UT: 162/III @ 3 yrs
HEIGHT: 24.5"
WEIGHT: 58 lbs
COAT: liver roan, medium dense/medium harsh
BITE & EYES: normal
HIPS: PENNhip R.26 L.26, 90th percentile
THYROID: OFA Normal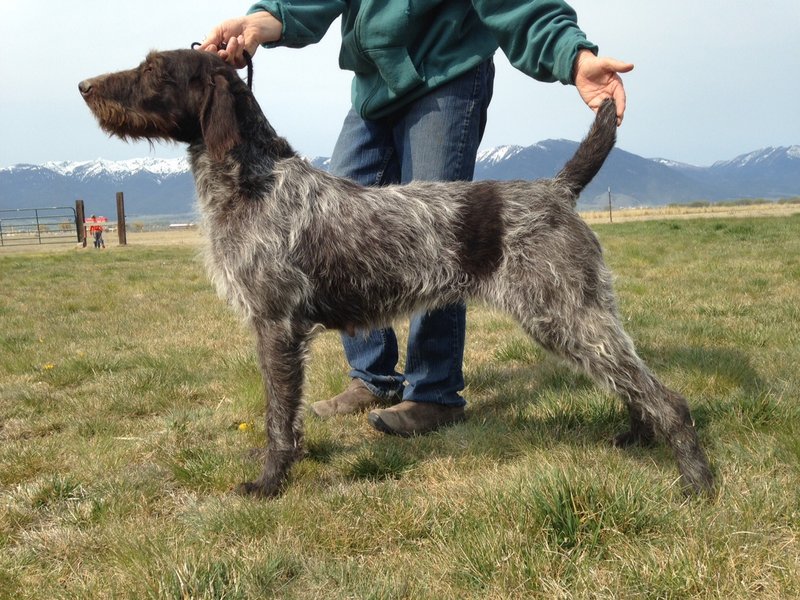 Harley is one of our young, upcoming females that is proving to be a very special dog. She is virtually a clone of her dam, Allie, who was one of our favorite all-time wirehairs - as both an amazing hunting dog and family companion. I finished the 2015/2016 hunting season shooting my limit of chukars over Harley.
Harley is one of those big motor dogs. Whether it is in the field or water, she has an extra gear that most dogs just don't have. She simply wants to find birds a little more and is willing to run a little farther, or dig a little deeper to produce them.
As high-powered as Harley is as a hunting dog, you would never know it around the house. Her dam was the same way. She is a great family dog and a real sweetheart with the family and around the house.
Harley is out of one of our most successful breedings out of Luke and Allie. This cross really combined to bring out the best of both parents in their offspring. Luke is owned by Jeff Funke of Three Devils kennel and he has produced several very talented puppies for us.
We are receiving excellent feedback on Harley's first litter. Four puppies were tested in NAVHDA natural abilty, averaging 109.75 points.
-----------------------------------------------
'Z' LITTER
Whelped September 11th, 2016
11 puppies - 6 males (2 blacks & 4 livers) and 5 females (2 blacks & 3 livers)
The 'Z' litter is a repeat breeding from our 'U' litter in 2014. Nine puppies from the first litter were NA tested, averaging 107 points. Two dogs were tested in the VHDF AHAE at 20 months, also scoring very well with max scores in field search, nose, pointing, and search behind the duck. This is a proven cross of very talented dogs, however, these dogs are very driven and can be strong willed are best suited in the hands of experienced handlers that are capable of handling a high-powered dog.
SIRE:
DC AFC DUAL SHOT'S BEHIND BARS NA I UT III
AKC:
2010 GWPCA Nationals Futurity 2nd Place
2012 GWPCA #1 Ranked Gun Dog (combined)
NAVHDA NA: 112/I
NAVHDA UT: 178/III
HEIGHT: 25"
WEIGHT: 63 lbs
DOB: 3-31-2009
COAT: liver roan, med dense / med harsh
BITE: normal
EYES: CERT clear
HIPS: OFA Good
THYROID: OFA Normal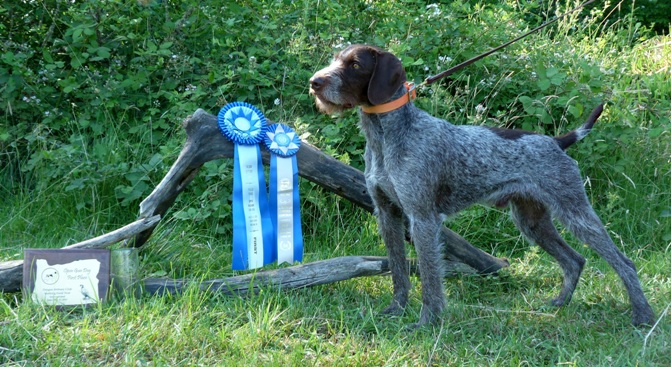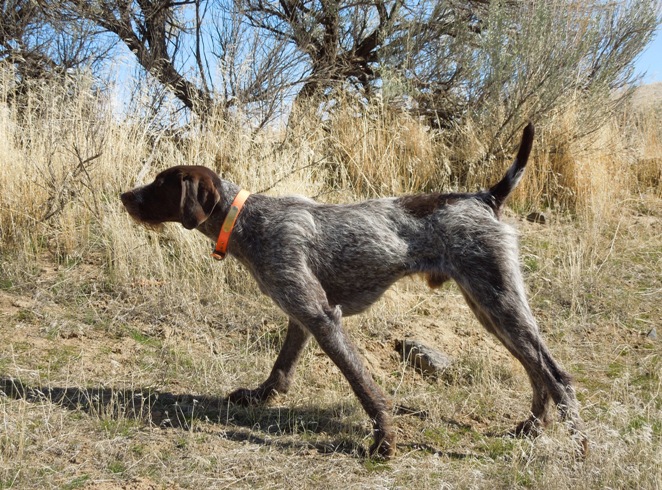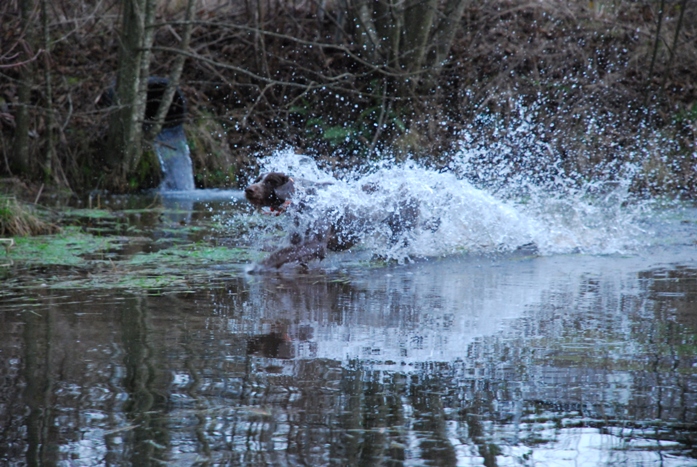 Sarge is a talented male that is truly the total package dog. We have been watching Sarge since he was an 8 week old puppy and we are very happy with how he has developed. In the field, Sarge is a medium range field dog with a very strong nose and point. He is very honest on his birds and handles them well. Sarge's field talent combined with his trainability allowed him to quickly mature into a competitive horseback field trial dog as a 2 year old. Sarge completed the coveted dual champion shortly after his 3rd birthday. While Sarge is a very strong field dog, his water work is equally impressive. From a very early age Sarge has loved the water. He is a retrieving maniac that just POUNDS the water to retrieve. Sarge also has a very nice temperament and sound conformation.
We have watched Sarge run the NAVHDA NA test, we watch him run the GWPCA National Futurity field trial where he placed 2nd, and we have hunted wild chukars over him. His puppies consistently score very well in their NAVHDA natural abilty tests.
Sarge is owned by Karla Hawkins and Wayne Yamashita, and he is trained and handled by Wayne.