Allie quickly learned how to handle wild birds and was displaying the savvy of a seasoned veteran by the end of her first hunting season. While she is a great all-around versatile dog it is her desire, speed, athleticism, ground covering ability, style and bird finding ability that set her apart from the rest. She is probably our best chukar hunting dog. Allie's brother is a Versatile Champion and received his NAVHDA utility prize 1 at 17 months of age. Allie's sister was the #1 Derby Dog of the Year on the Canadian prairies in all-breed field trial competition. Allie always gives 110% the entire time she is down. The great thing about Allie is that while she is a little dynamo in the field, she is one of the calmest, most sweet natured dogs I've ever been around in the house. She has an excellent temperament and is always happy and eager to work or please. She is without doubt the most intelligent dog we have ever owned. She is also a fantastic retriever. Allie is a lot of dog in a small package and if I'm going on a several day hunt in rugged country, she is the first dog I take.

-----------------------------------------------------
'O' LITTER
This litter is spoken for.
Whelped June 13th, 2012
5 males & 3 females
This breeding should produce top performing versatile hunting dogs. Both Rux and Frida are very strong upland and waterfowl hunting dogs that have also performed very well in various testing organizations. Both Rux and Frida have excellent temperaments and are very calm, easy-going dogs around the house.
SIRE:
BANDIT V DEN DREI TEUFELN
VDD VJP: 68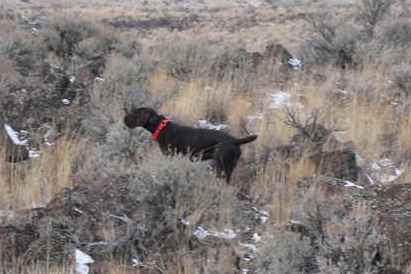 VDD VGP: 303/I
HEIGHT: 25"
WEIGHT: 67 lbs
COAT: liver roan, medium dense/medium harsh
BITE & EYES: normal
HIPS: HD Free (Berlin)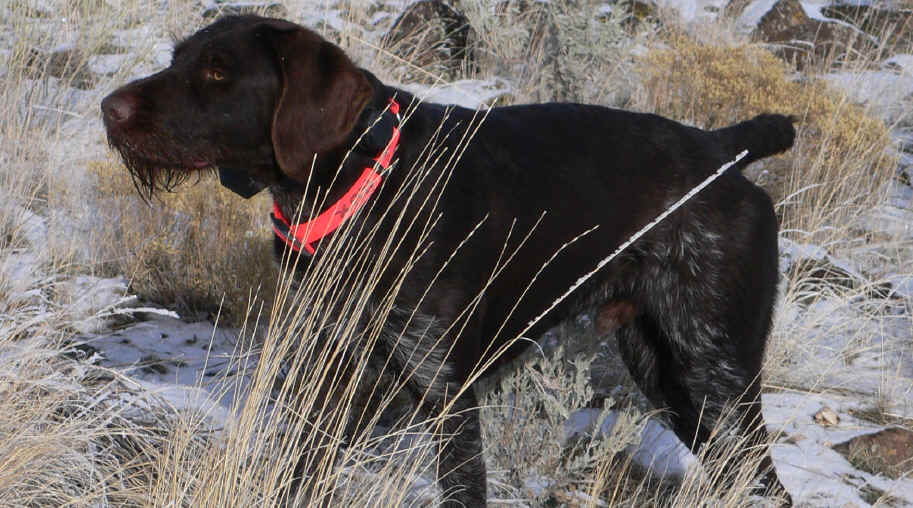 Rux is a very talented male that excels on hunting both upland and waterfowl. He is a fantastic chukar dog that will get out and cover big country. Talent aside, Rux has an excellent temperament and is a very calm dog around the house. He is also a very cooperative dog that was incredibly easy to train.
Rux was bred and trained by Jeff Funke of Three Devils kennel. Jeff has also used Rux for breeding and has been very happy with his puppies. Two of the highest scoring dogs in the VHDF are Rux offspring.
DAM:
BONE POINT'S DARK STAR
NAVHDA NA: 108/II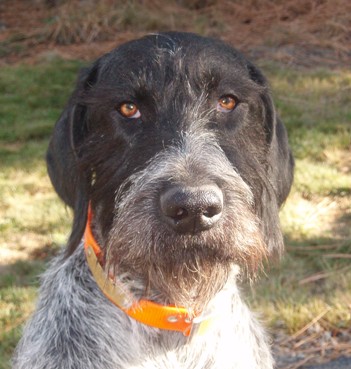 NAVHDA UT: 201/I
HEIGHT: 25"
WEIGHT: 58 lbs
DOB: 4-1-2006
COAT: black ticked, dense/medium harsh
BITE & EYES: normal
HIPS: OFA Good
THYROID: Normal, GWP-TH224/62F-VPI
CONFORMATION: VHDF CE "Very Good"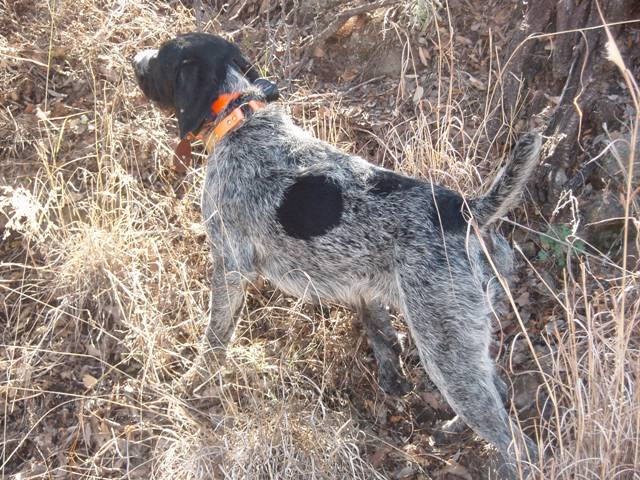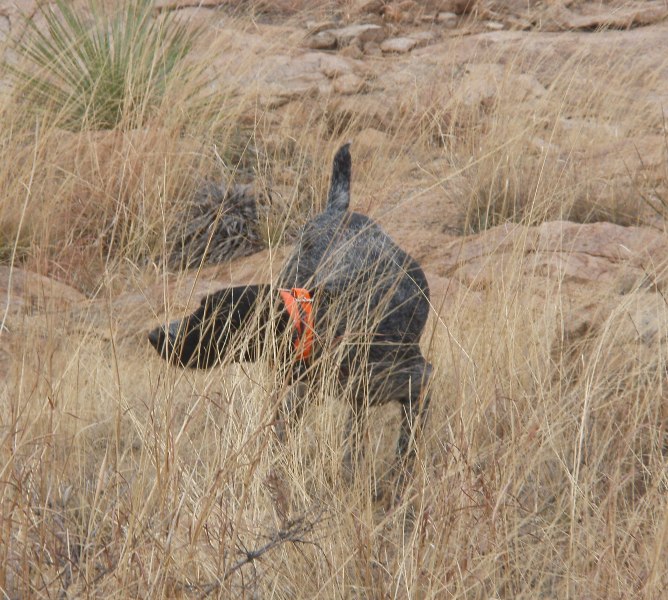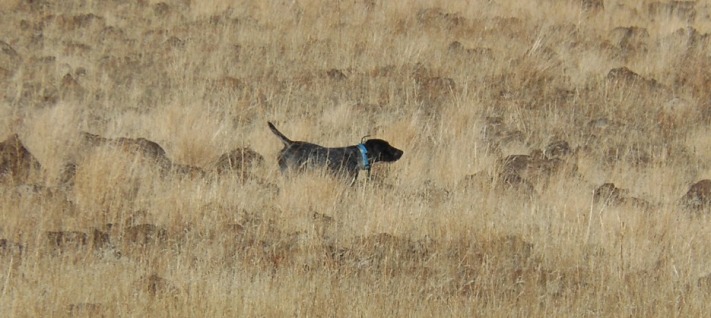 Frida is owned by Jim and Pat Pease of Bend, OR.
Frida is one of the nicest bird dogs that we have produced. At 8 months old she was already covering incredible ground, hunting intelligently and flawlessly handling birds better than most seasoned hunting dogs. I knew after the first time I hunted over her that she was something special. She is basically a black, taller, better coated version of her dam, Allie (McNally's Super Ali NAI, UTI). They have the same sweet temperament and they are both two of the fastest, most stylish wirehairs that we have ever seen in the field. They both just eat up the ground and are bird finding machines. Both Frida and Allie are also very biddable, trainable dogs that are a pleasure to have around the house.
Frida is a wide ranging field dog that excels on chukars and huns in open country. She is also a reliable waterfowl retriever in cold, icy conditions. In training, the duck search was always her strongest area, proven by her ability to earn a '4' in all four of her utility tests.
Frida and her owner Jim hunt upland and waterfowl from September to February in Oregon, South Dakota, Saskatchewan, California and Arizona.
You can see more pictures of Frida on Jim's website at www.fridawire.com
-----------------------------------------------------
'N' LITTER
This litter is spoken for.
Whelped May 28th, 2012
7 males & 1 female
This should be a very nice linebreeding on NSTRA CH Salty Pete v Rahhaus NAI UTI and some of his most talented sons and daughters. Pete produced several outstanding hunting dogs that went on to receive NSTRA championships, AKC Field Championships, NAVHDA utility prize Is, and NAVHDA Versatile Champions. This litter by Bron and Lola should produce some very hard-driving dogs that should be equally talented in the field and water. We are expecting fast, wide-ranging field dogs with outstanding style and bird-finding abilities. Both Bron and Lola pound the water and are very strong waterfowl hunters, too.
SIRE:
BLUE COLLAR BRON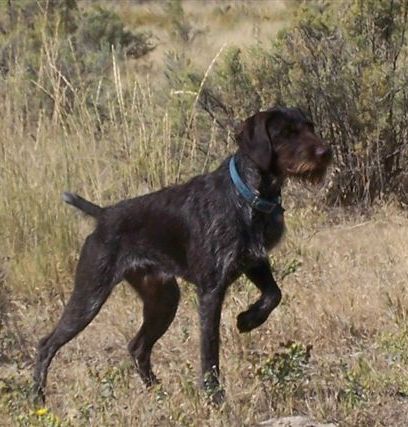 NAVHDA NA: 108/I
NAVHDA UT: 201/I
HEIGHT: 25"
WEIGHT: 55 lbs
DOB: 4-20-2007
COAT: liver roan, medium dense/ harsh
BITE & EYES: normal
HIPS: OFA Good
THYROID: OFA Normal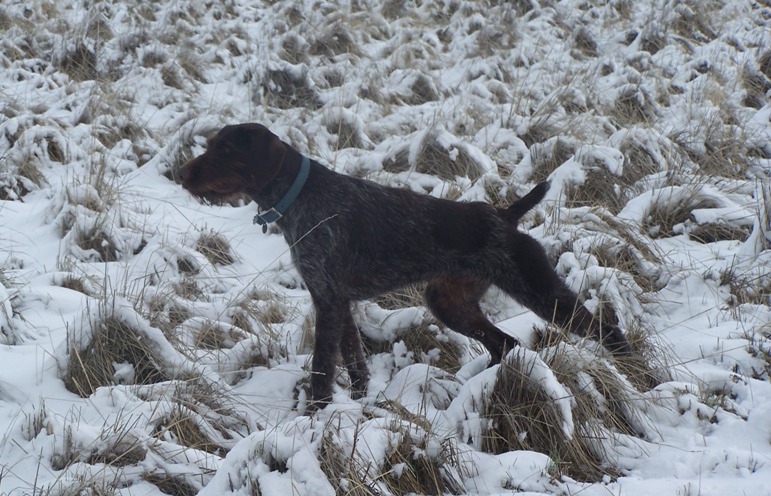 Bron is a product of two highly accomplished parents. Bron's sire, Benelli, is one of the youngest dogs to ever pass the NAVHDA invitational. Bron's dam, Gin, is both a NSTRA champion and a NAVHDA Versatile Champion. True to his lineage, Bron has not dissapointed.
Bron is a very driven dog with a fast, wide-ranging field search and a relentless water entry. His duck search is incredible. He is a NAVHA NA prize I, UT prize I, and he has NSTRA points and is well on his way to a NSTRA CH.
Bron spends each fall hunting upland and waterfowl in Utah and South Dakota for his owner and breeder, Art Trujillo of Ogden, Utah.
DAM:
BONE POINT'S INDIGO
NAVHDA NA: 112/I @ 10 mo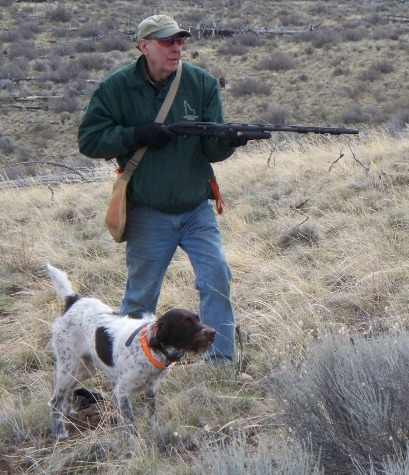 NAVHDA UT: 168/III @ 25 mo
HEIGHT: 24.5"
WEIGHT: 55 lbs
DOB: 7-22-2009
COAT: liver & white, medium dense/medium harsh
BITE & EYES: normal
HIPS: OFA Excellent
THYROID: Normal, GWP-TH226/24F-VPI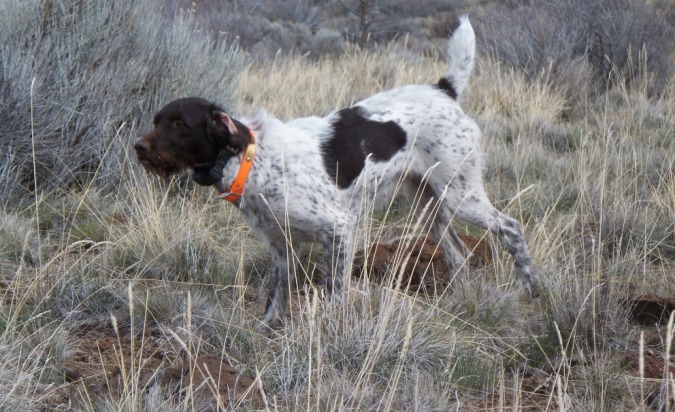 Lola is owned by Jim and Pat Pease of Bend, OR.
Lola is one of the most talented wirehairs we have ever produced or witnessed. She is truly a once-in-a-lifetime dog. Her desire for game is unreal. She has been a prodigy from her earliest wild bird hunts and continues to impress in every training and hunting situation thrown at her. Lola has a very aggressive, medium-to-large ranging field search. She has a spectacular nose and is an excellent bird finder. She has as much "point" as any wirehair we have seen. She honors naturally and has excellent style and intensity on game. She pounds the water and loves hunting ducks.
Lola has an excellent temperament. She is a tough, gritty dog that can handle heavy training pressure and the most difficult hunting conditions out there.
You can see more pictures of Lola on Jim's website at www.fridawire.com