Luke is an exceptionally talented versatile hunting dog. He is a very good chukar dog that will get out and cover big country. I have personally hunted over Luke and was most impressed by his ability to handle extremely skittish birds - he has an exceptional nose, hunts with a high head and stands his birds off from great distances without pressuring spooky birds. Luke is also a hardcore waterfowl hunter and is a tough, reliable retrieve in the most difficult conditions. His coat and conformation are impeccable. Luke has a very good temperament and is a mentally sound dog that responds well to tough conditions and heavy training pressure. Luke is owned by Jeff Funke of Three Devils Kennel. Jeff is a avid upland and waterfowl hunter and has a very high standard for the dogs used in his breeding program.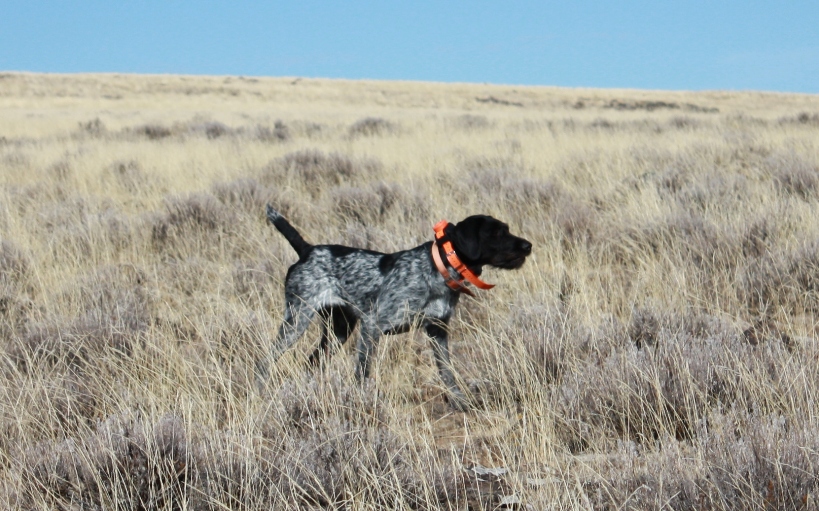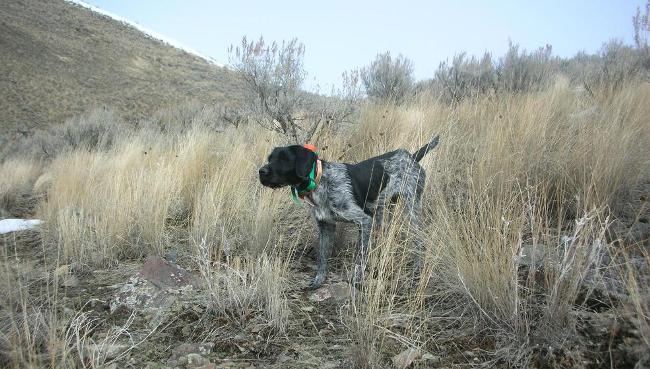 Stella is an extremely talented bitch with three attributes that are phenomenal; DRIVE, NOSE and COAT. Her incredible prey drive and desire to search for game on land or water is unparalleled. Her nose and ability to use it on land and water is jaw-dropping. Stella hunts at a medium range in the field and she has a very intense, stylish point. She is a tough, mentally stable bitch that can take heavy training pressure well. With that said, her incredible desire and toughness have not made her the easiest dog in the world to train. Stella has an exceptional dense/harsh coat and her conformation is fair.

Stella ran her first utility test at 24 months old and scored a 178/II and was marked down due to steadiness in the field. We are confident that she will be a prize 1 utility dog some day. Two of Stella's littermate's also ran UT at 24 months as well, scoring a 182/II and a 198/I - both with first time utility handlers. It is impressive to note that all three young dogs performed very well under a great amount of training pressure, including all three earning 4s in the duck search. This litter also received a NA Breeder's Award with an average score of 106.5.

-----------------------------------------------------
'L' LITTER
Whelped May 30th, 2011
Ready to go starting the weekend of July 23rd
11 puppies - 7 males (1 liver & 6 black) and 4 females (2 liver & 2 black)
Female #1 is still available (8/14)
This breeding should produce incredible field dogs that should be competitive AKC field trial, NSTRA, or NAVHDA performers. They should athletic, stylish, medium to large ranging field dogs and reliable waterfowl retrievers.
SIRE:
BONE POINT'S GEYSER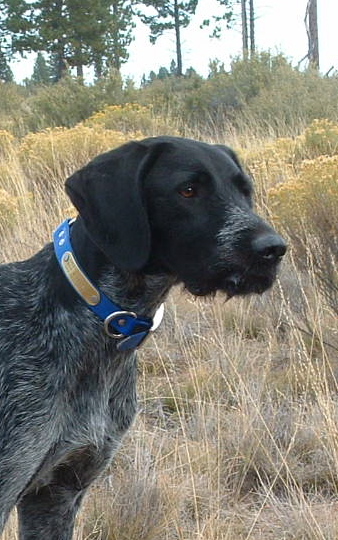 NAVHDA NA: 96/III @ 9 months
NAVHDA UT: 198/I @ 24 months
HEIGHT: 25"
WEIGHT: 57 lbs
COAT: black roan, medium dense/medium harsh
BITE & EYES: normal
HIPS: PENNHIIP L.31 R.23, 80th percentile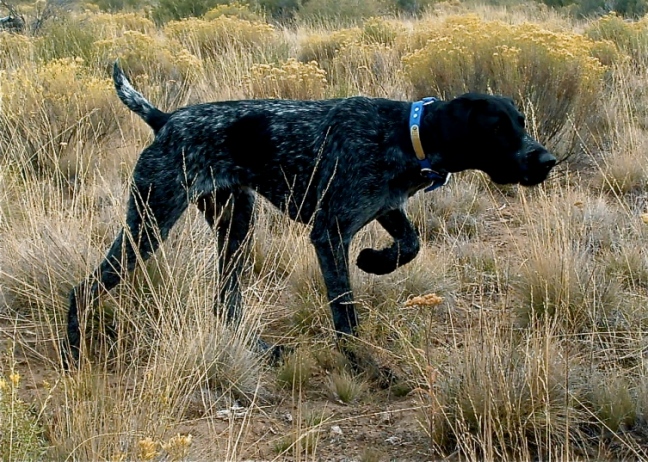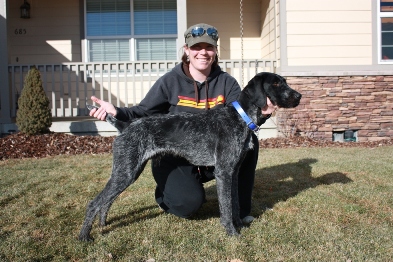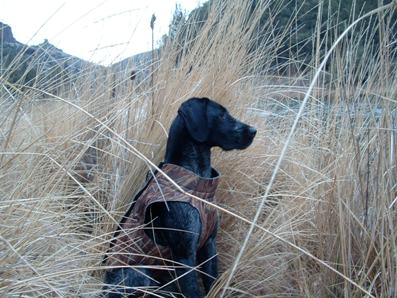 Colt is one of the finest males that we have produced. He was also out of one of our nicest litters. Colt has outstanding desire on land and water. He has a very fast, animated field search and he LOVES retrieving ducks and training for the duck search. I have personally hunted chukars over Colt and he is truly a first-rate bird dog - he covers big country, has an superb nose, and has excellent "wild bird savvy" and does not pressure spooky birds. He is also a durable dog with tough feet that can hunt back-to-back-to-back days in tough chukar country. Colt is an incredibly athletic dog that just floats across terrain. He is probably the nicest gaited GWP that I ever have seen. Colt has the perfect temperament. He is a very calm, confident "house dog" that is great with children and other dogs.
Colt is owned by Kate Willis of Bend, Oregon. Colt is Kate's first hunting dog. With the help of training partner Melissa Herz, Kate and Colt were able to receive a prize I in the NAVHDA utility test at tender age of 24 months old. Colt is Kate's constant companion for everything from dog training, to hunting, to mountain biking, to kayaking, to cross-country skiing.
We are looking forward to Colt's first litter and are confident that he will make a positive contribution to the wirehair gene pool. Thanks Kate!
DAM:
MCNALLY'S SUPER ALI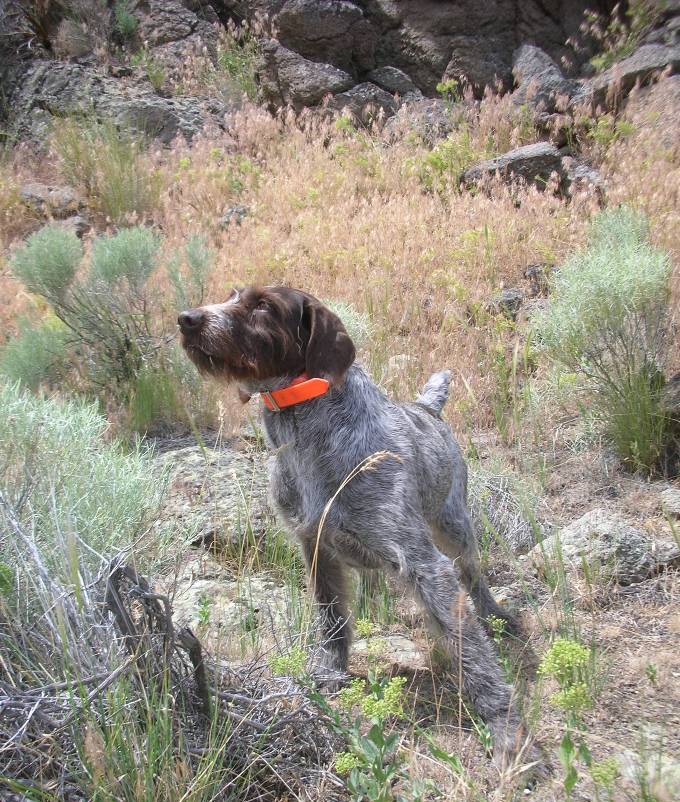 NAVHDA NA: 110/I @ 15 mo
NAVHDA UT: 199/I @ 41 mo
HEIGHT: 23"
WEIGHT: 47 lbs
DOB: 4-27-2003
COAT: liver ticked, medium dense/medium harsh
BITE & EYES: normal
HIPS: OFA Excellent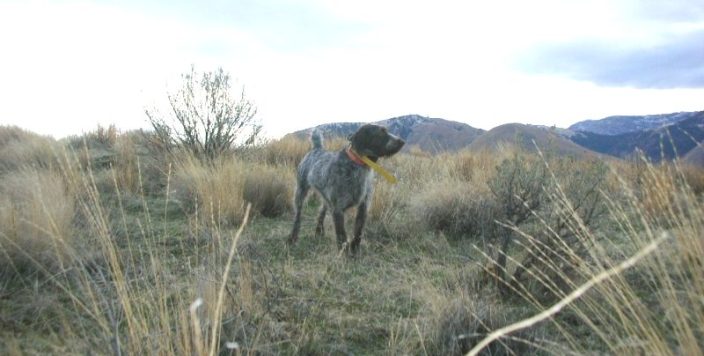 Allie quickly learned how to handle wild birds and was displaying the savvy of a seasoned veteran by the end of her first hunting season. While she is a great all-around versatile dog it is her desire, speed, athleticism, ground covering ability, style and bird finding ability that set her apart from the rest. She is probably our best chukar hunting dog. True to her lineage, she is a dog that can excel in both NAVHDA and field trials and time will give her the opportunity to do so. Allie's brother is a Versatile Champion and received his NAVHDA utility prize 1 at 17 months of age. Allie's sister was the #1 Derby Dog of the Year on the Canadian prairies in all-breed field trial competition. Allie always gives 110% the entire time she is down. The great thing about Allie is that while she is a little dynamo in the field, she is one of the calmest, most sweet natured dogs I've ever been around in the house. She has an excellent temperament and is always happy and eager to work or please. She is without doubt the most intelligent dog we have ever owned. She is also a fantastic retriever. Allie is a lot of dog in a small package and if I'm going on a several day hunt in rugged country, she is the first dog I take.